With customers' expectations on the rise, banks are engaged in a fierce competition to provide top-notch digital products and build satisfaction among a wider audience. Without setting foot in a branch, people can now open accounts via a mobile or desktop app, which offers the great conveniences of speed, security, and 24-hour availability.
Still, the abandonment rate for opening online accounts is 19%, as we learn from the Digital Banking Report. Another study, by Signicat, reveals that as many as 40% of online applications never get completed. So there's obviously room for improvement and new opportunities. Most importantly, you need to grasp why so many people struggle to complete this task.
One of the biggest culprits is that the process is often confusing and requires a lot of work from customers. According to research by CEB (now Gartner), 96% of customers who put a considerable effort into an interaction become more disloyal. That's why you need to ensure the procedure is smooth and simple from end to end, whether on a desktop or mobile.
For financial institutions, the challenge is even greater. People expect an experience as simple and pleasing as from apps like Uber or Airbnb. Above all, it needs to be fast and intuitive. The thing is, these applications don't have to deal with the same legal and compliance issues as banks do.
But with the right technology, like analytics, and a sound strategy banks can streamline the process so people can open accounts with just a few clicks. Today we'll present the key considerations that will help you reach this goal.
1. Legal and technical stumbling blocks to overcome
If you're looking to optimize the procedure for opening a bank account, you need data. And there's a wealth of it to be collected, since each step of the operation involves multiple forms containing personal and frequently sensitive data. This, in turn, entails an obligation to meet various regulations and have appropriate security measures in place.
From a technical standpoint, you need to be sure that your software provides your organization with the utmost security and full control over your data. As a bank, you operate within strict protocols and policies that specify who can access certain data you gather.
In that case, you can't rely on solely cloud-based software like, for instance, Google Analytics. What's more, not every vendor offers the highest standards of data protection.
The most airtight solution would be on-premises analytics that complies with stringent security and legal policies inside the bank. Self-hosting deployment allows you to supervise the application. That means you know where your data is sent – into your own servers, kept under your watchful eyes.
Also, you get full access control, so you're in charge of your infrastructure configuration. You can tailor it according to your bank's security rules.
However, internal rules are just a part of the story. Besides internal regulations, you need to consider the legal landscape. With growing awareness of user privacy and data security issues, there's more than just GDPR to think about. For example, there's the California Consumer Privacy Act, Brazilian General Data Protection Law (LGPD), Chile Privacy Bill Initiative, and China Internet Security Law.
The good news is that if you have adopted a GDPR-aligned framework across your bank, then compliance with other laws will be much smoother. In some cases it might even mean you've done most of the heavy lifting already.
2. Defining business requirements
For banks, credit unions and other financial organizations, reducing frictions in the process entails designing a sound strategy. That involves specifying business requirements, determining what needs to be measured to optimize each step.
Start small and consider basic UX metrics that will give you the bigger picture, like:
conversion rate
process success rate
abandonment rate at each step of the process
the average time it takes to open an account
For instance, abandonment rates are most acute when people are going through online identity verification.
Once you grasp the state of affairs, you can dig deeper. After UX and analytics metrics, focus on business metrics. There are certain things you need to analyze. For example, think how each change to the process of opening an account impacts its quality. Or whether a drop in the number of accounts opened correlates with an increase in their business value.
3. Preparing an implementation plan
After you have requirements and goals in place, the next step is to convert them into an implementation plan. This is the ideal tool to ensure you're tracking all key interactions during the account opening process. It also covers resources, budget, outcomes and responsibilities. Finally, it serves as a technical guide that turns business needs into tasks for developers and technical teams.
Such plan transforms goals and ideas into identifiable steps, ensures you keep a record of all your activities so you won't miss anything that's crucial for the success of your business initiative.
4. Spotting the friction points
To improve the process of opening accounts, you need to find where and why people struggle with it, or even abandon their efforts. It's best to reach for basic but fundamental reports that help you understand user flow. Go for funnel visualization reports.
First, you need to segment data in the report and then break it into smaller chunks. Then, start to measure conversion and abandonment rates for the whole process as well as for individual steps. This data shows you the process's breaking point faster.
With a properly configured report and attached metrics, you've got a perfect set of KPIs to track the process. Also, you can monitor if your optimization strategy is moving you closer to your goals.
Funnel reporting lets you do a quick "technical analytics" and UX overview of the account opening process. The last piece of this puzzle is segmentation. You can divide your customers by:
device type
browser type
device manufacturer
screen resolutions
You can apply more segments, but this should be enough to uncover 80% of the most basic technical issues.
You should be looking for answers to questions like: which user segments have higher abandonment rates? Does it matter if they use Apple or Huawei? What is the difference in abandonment rates between desktop and mobile users? And so on.
What's more, insights from technical analysis are great guidance for your QA team. For example, by comparing abandonment rates between MS Edge and Chrome, you can indicate where the QA team should look for tech issues and bugs.
Once you know whether a particular form or step is the culprit, you can dive deeper by applying more granular metrics. If your analysis reveals that a form is causing issues, then shift your focus there and analyze customers' interactions field by field.
5. Looking for flaws in the account opening process
Before you move any further, determine whether a form is the troublemaker. Crunch the numbers – how many users have interacted with the form but eventually abandoned it, and how many of them didn't even start. If either percentage is high, then it's worth analyzing this customer segment separately.
For customer segments that didn't even start filling out the form, check if the form displays properly. Another reason might be that it was way too long and complicated.
As for people who leave the form unfinished, you need to verify which exact field provokes them to drop it, and which other ones could be problematic later on. That calls for an advanced analysis.
To assist you in finding the culprit, here is a bunch of handy metrics from Formisimo, the industry leader in form analytics. Measure:
How often people abandon or drop forms
How many times people re-enter or correct field data
Which fields are regularly ignored or left blank
How many form submissions generate errors
How long it takes to complete a form field (or the entire form)
Such metrics provide you with a complete picture of form issues. Once you identify the reasons why users are dropping out of the process, you can fix them on the spot and prevent further damage.
6. Time required for opening the account
The digitalization of banking services means that people expect to do business quickly and easily. The same goes for opening an account, and numerous surveys confirm that.
As found in the report titled State of the Digital Customer Journey, abandonment rates increase dramatically when the time to finish an application process increases.
Understanding this finding is crucial to optimize the whole process.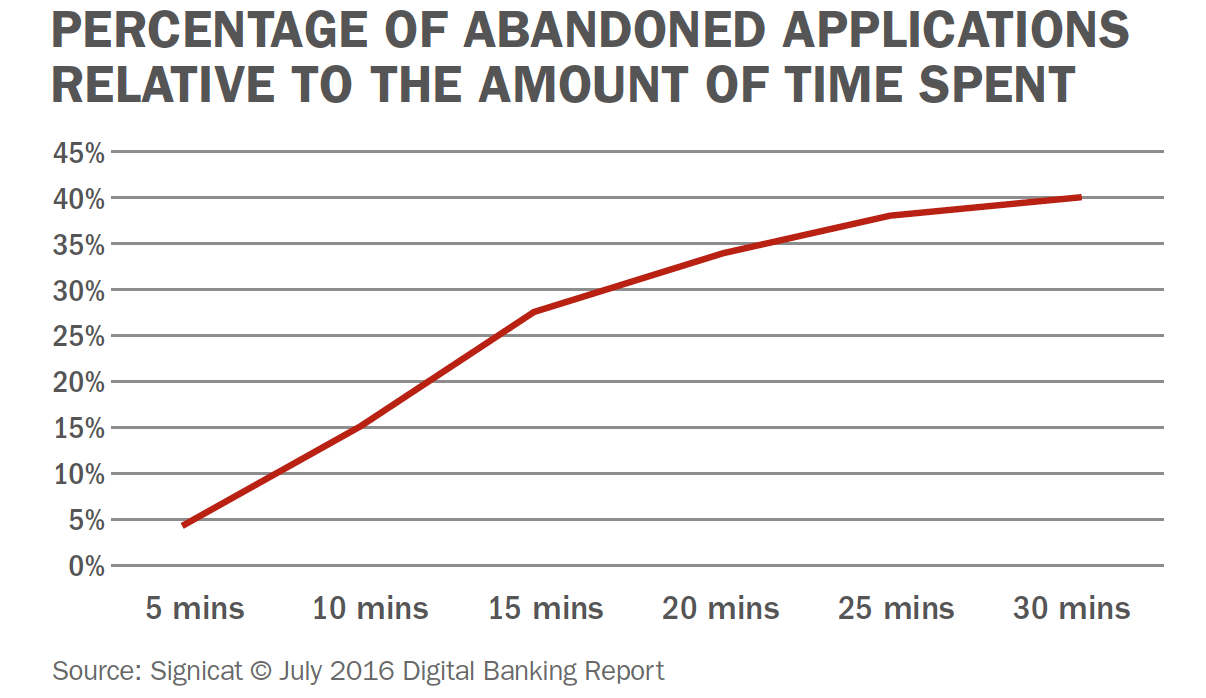 The numbers don't lie. The Digital Banking Report reveals that barely 14% of organizations surveyed made it possible to finish the account opening process in not more than 5 minutes, while for 20% it takes over 10.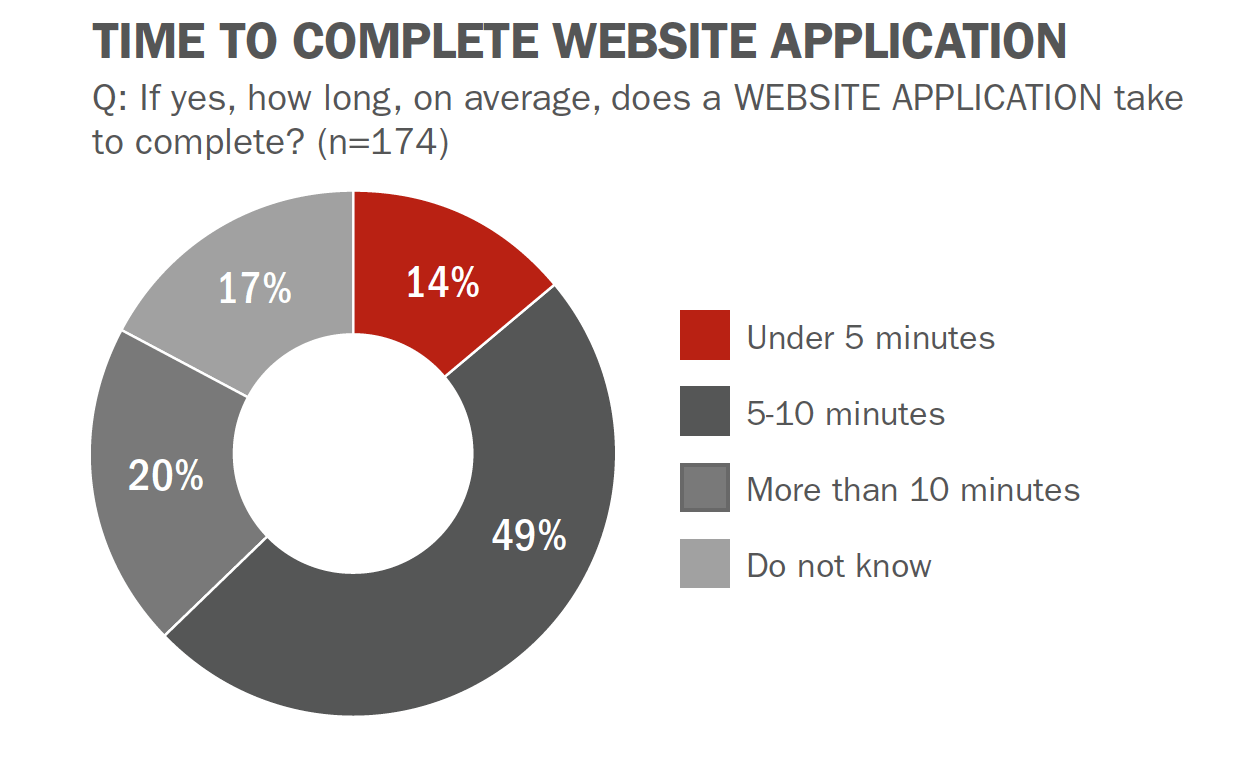 7. Optimizing opening a bank account for multiscreen experience
Mobile and online banking brings a host of challenges. The most critical of them is the account opening process – a dropped transaction can mean a customer is gone forever. Bad first experiences will destroy much of your efforts.
The problem is particularly acute for smartphones. Based on Avokas's Digital Sales Report, more than 60% of digital applications in major national banks are sent via mobile phones. It means they have overtaken desktops. That's why it's essential to optimize the mobile experience when planning your acquisition strategy.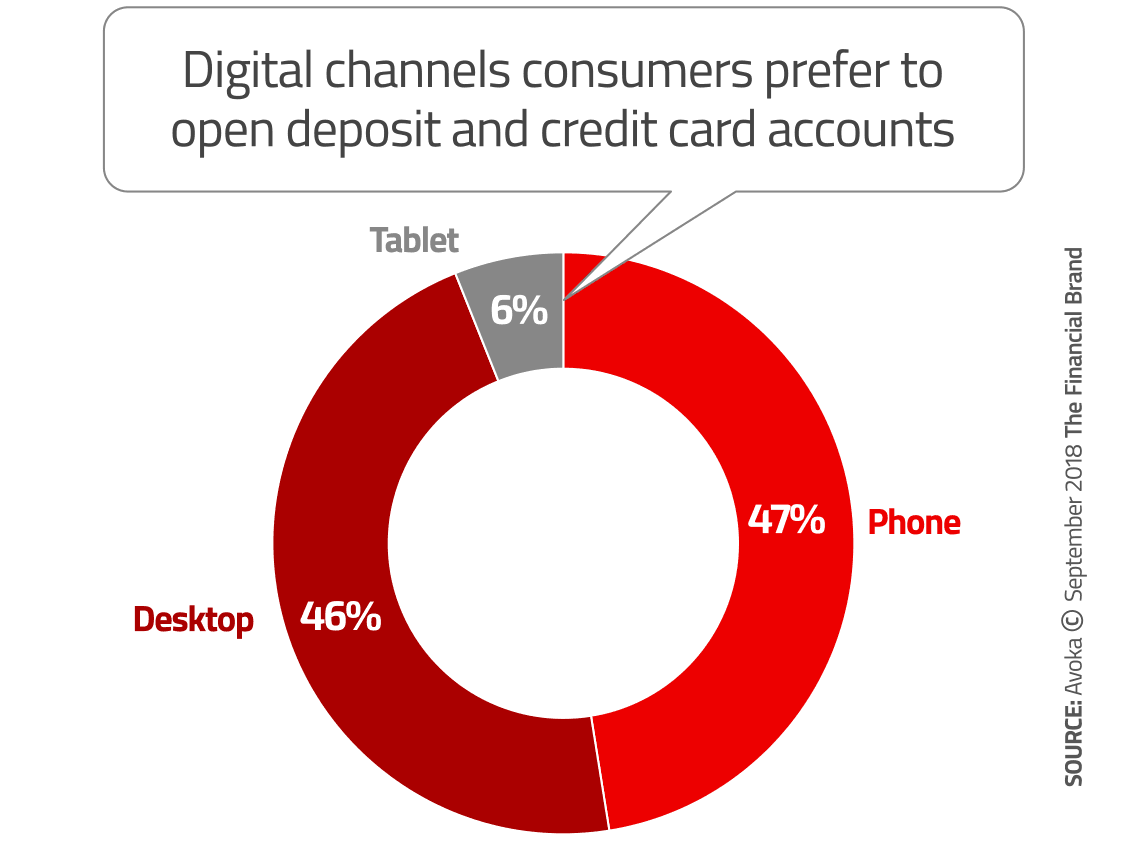 Moreover, streamlining the account opening process for mobiles is vital for Millennials, who top the mobile banking usage stats. They're particularly demanding and show little patience for poor user experience.
In truth, as found in a survey by Jumio, 38% of Millennials drop mobile banking activities when things take too long. It turns out that improving the process, cutting down on time and removing frictions is a competitive necessity banks need to focus on.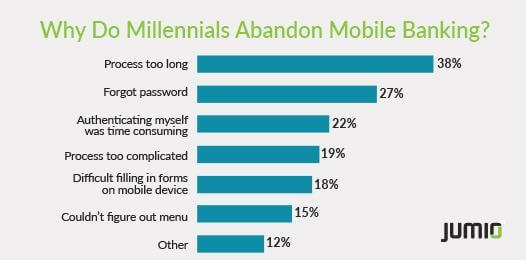 Best practices
Now that you know what you need to be looking for, it's time for some actionable tips. To help you improve your overall strategy and save some time, we've gathered practical tips from the experts at The Financial Brand. Here we go:
Simplify the form to the bare minimum. Make it fast and easy to complete. Ask only for the basic information that a person knows without checking any documents, like phone number or address. Any extra details you can gather later on. This helps you to reduce time, keystrokes and all unnecessary scrolling, which is a common issue on mobile devices.
Make the process as digital as possible. Provide a way to submit documents via email or let users upload them online, support digital signatures so customers don't need to visit a branch.
Design with mobile in mind. A great experience on mobiles means a transaction is fast and doesn't require much effort. Offer things like dropdown lists or toggle buttons so it's easier for customers to supply information. Remember about reducing white space and including an adaptive design to ensure an excellent user experience across all kinds of mobile devices.
Ensure "save and resume" functionality. While opening an account, customers often switch between channels so help them start the process and come back later without forcing them to take the same steps again.
Retarget abandoned applications. People drop forms without completion for various reasons, be it low battery power, answering a call, or a lost internet connection. It's crucial to obtain their primary contact information early in the process to retarget these applicants quickly.
Postpone cross- and up-selling. First, focus on onboarding for the product your customer applied for. All marketing initiatives concerning additional services should wait until the account opening process is done.
Ensure tool stability. Before you provide your prospects and customers with an app, make sure it's free from glitches, bugs, etc. App failures and error notifications significantly impact user experience and unnecessarily extend the account opening process.
Final thoughts
Customers' expectations are rising rapidly and a truly awesome digital experience across financial services is a must. That's why long forms and complex account opening procedures need a serious makeover. Above all, banks and other financial players have to ensure the whole journey is 100% digital, and that it lasts much longer after clients activate their profile.
We hope that you will refer back to this article as you devise your optimization strategy. In case you want more details or have some questions about products you can use along the way, get in touch with us.