The customer journey gives you insight into the changing needs of your customers, from discovery to purchase. By identifying where individuals are along the customer journey, you can plan actions to help them progress forward smoothly. 
Charting the customer journey for your company gives you a roadmap that will serve as the foundation of your strategy. However, if you want to transform static roadmaps into customer journey-tracking powerhouses, you need a specialized tool with complex features, such as a customer data platform (CDP).
Customer data platforms are marketer-managed software that integrate multiple data sources to create a persistent database of unified customer profiles accessible to other systems. 
The data can be used for, among others:
Segmentation
Marketing campaigns
Maintaining customer relationships 
A/B testing 
Personalization 
Social media outreach 
Lead scoring 
Retargeting
You can also integrate a CDP with ad platforms and demand-side platforms (DSP) that help marketers get their message in front of the right audience. Ad platforms like Google Ads and Facebook Ads target and display advertisements within their own specific network, while DSPs offer marketers more reach with access to multiple networks across the web. 
Campaigns you launch after integrating these platforms should move people through the journey to improve customer experience, retention, and loyalty – three factors affecting customer lifetime value.
In this post, you will learn how to connect the data from your CDP with advertising platforms, track the full customer journey, and plan effective marketing campaigns to move customers efficiently along the stages of their journeys.
Tracking the customer journey
We will present a generic customer journey as a point of reference to ensure all the concepts are clear. Here's a simplified journey for an ecommerce or online retail platform:
Stage 1: Anonymous visitor
These are most likely first-time visitors to the website. They aren't customers, and you don't know their names, email addresses, and other personal information. The only information you have is what's gathered via web analytics.
Stage 2: Known visitor
Although still not a customer, this visitor has been to your website before. You have collected some data, such as their name or email address, which identifies them when they visit your website.
Stage 3: First-time customer
This person has made a purchase but isn't a repeat or loyal customer. You now have gathered information about them beyond web analytics data – such as their name, address, email, purchased product and its value, etc.
Purchase data can relate to online and offline (brick-and-mortar) transactions. As long as CRM is used to track both types of purchase data, it can be integrated with a CDP.
Stage 4: Returning customer
A repeat customer who makes occasional purchases.
Stage 5: Loyal customer
This customer makes purchases on a regular basis. They are loyal and advocate the brand.
For the customers in stages 3-5, you have data from both web analytics and CRM, the latter containing and helping you manage transaction history and customer lifetime value.
After mapping out the stages of your customer journey, the goal is to move prospects and customers to stage 5 as quickly as possible and ensure their retention for as long as possible. This is the stage where customers are the most valuable, buying frequently and simultaneously advocating the brand, improving the chance of acquiring new customers.
Let's see how a CDP can help you locate and track individuals as they move through the stages of the customer journey.
The relationship between customer journeys and CDP audiences
Many ecommerce companies use web analytics, CRM, email marketing, and DSPs that do not integrate with each other – they just exchange UTM parameters. 
When these systems remain disconnected and used separately, they lead to data silos, where data sets are available to only one department, isolated from the rest of the organization. Data silos impede tracking and optimizing customer journeys, moving users forward, and increasing customer lifetime value.
One of the primary purposes of customer data platforms is integrating different technologies and allowing companies to make strategic data-driven decisions.
Is your company not using a customer data platform yet, or the CDP you have implemented is not meeting your needs? Have a look at the Customer Data Platform by Piwik PRO. Its advanced import, segmentation, and activation features, together with ensured data privacy, will help you better understand your audience and design personalized communications that resonate with it.
In our scenario, we want to integrate the CDP with a CRM and web analytics platform. Before you start tracking visitors and launching marketing campaigns, you must establish what stage customers and prospects are at in their customer journey. 
Break down the customer journey into stages, as we've shown in examples 1-5 above, and create a corresponding audience in the CDP for every stage. This way, you can place every individual – from a first-time visitor to a loyal customer – in the appropriate audience.
Translating the stages of your journey into audiences in a CDP bridges the gap between hypothetical models and real, actionable data.
We used our five-stage customer journey as an example and came up with the following grouping:
| Customer Journey Stage | Customer Data Platform Audience |
| --- | --- |
| Stage 1: Anonymous visitor | Audience 1 |
| Stage 2: Known visitor | Audience 2 |
| Stage 3: First-time customer | Audience 3 |
| Stage 4: Returning customer | Audience 4 |
| Stage 5: Loyal customer | Audience 5 |
There are no limits to how many stages and correlating audiences you can have in your customer journey – everything depends on your company's strategy.
Since we've established the stage-audience relationship, let's look at how the audiences are populated with prospects and customers and what data you need.
Audiences 1 and 2, containing anonymous and known visitors, do not contain customers but only visitors who have not yet made a purchase. Without transactional data from a CRM, these two audiences comprise profiles that only include data from web analytics.  
On the other hand, CDP audiences 3, 4, and 5, populated with existing customers, will include transactional data on top of the analytical data.
They will require data from multiple sources:
Web analytics data showing customers' behavior on your website or app.
CRM or ecommerce data showing their transaction history.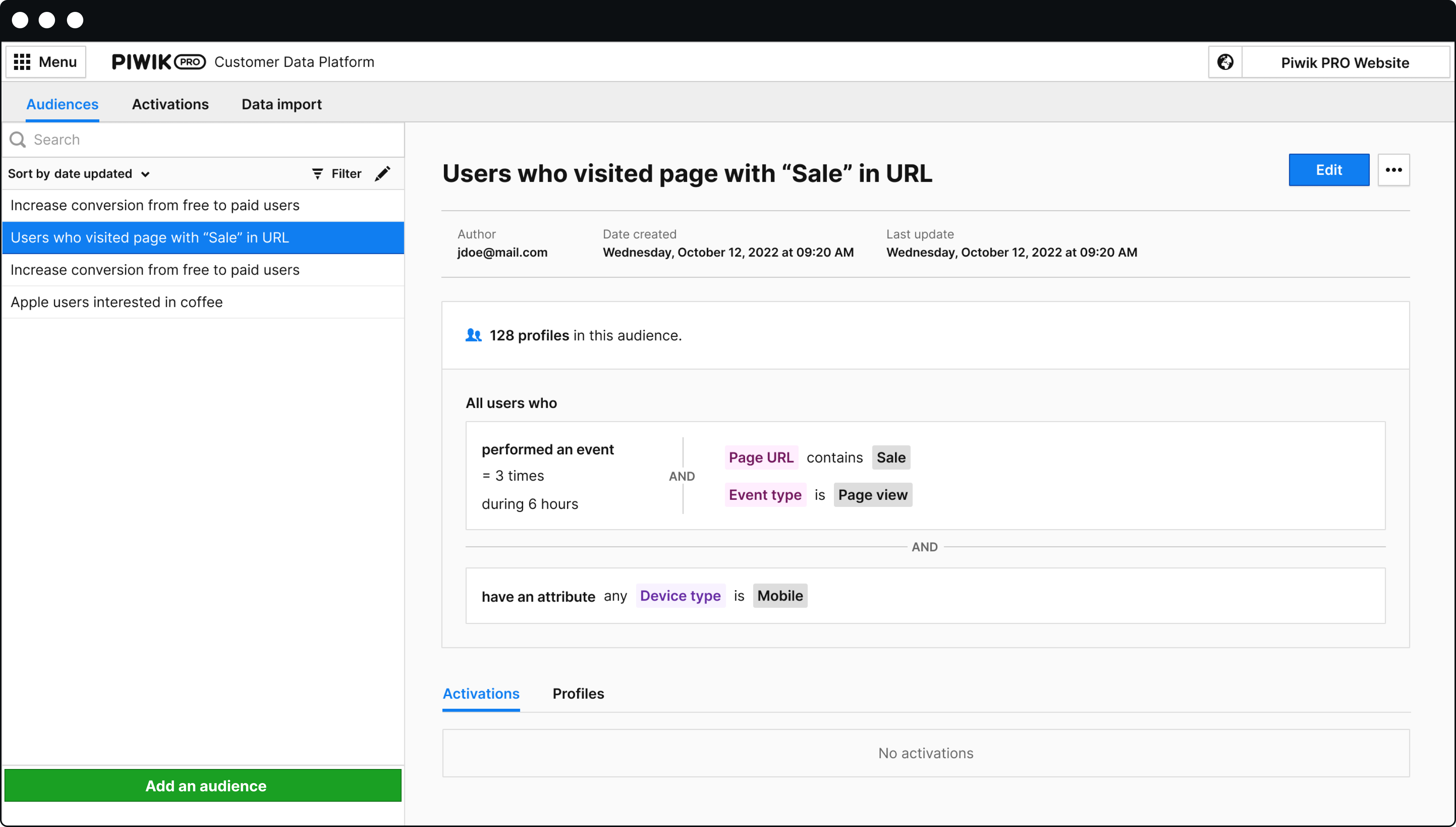 By configuring and integrating your CDP with CRM and web analytics, the CDP can:
Connect web analytics behavioral data with CRM transactional data.
Track how individual customers move through audiences and how they progress along the customer journey.
Record individual customer lifetime value.
The prospects and customers are now segmented into advanced audiences. So, how can we influence them to progress to the next audience – or move along the customer journey stages – ultimately boosting purchase frequency and lifetime value?
Integrating the customer data platform with ad platforms
Data activation involves analyzing data to develop insights and convert them into actions to unlock value for the business. 
You can activate your data by connecting your CDP to other tools and platforms and engaging with customers across many touchpoints, such as email campaigns, personalization, on-site retargeting, CRMs, internal channel communication, social media, and advertising.
In our case, we will consider activating customer data by integrating the CDP with ad platforms – specifically, Google Ads. Activating CDP audiences in ad platforms links your audience segmentation and tracking to outbound marketing efforts. 
After you export the audience data, the ad platforms will start mapping users. In other words, they will begin looking for the provided user profiles within their own networks.
In the example below, we've taken our "Anonymous" audience and uploaded it to Google Ads. You can see the networks in which Google found users from this audience.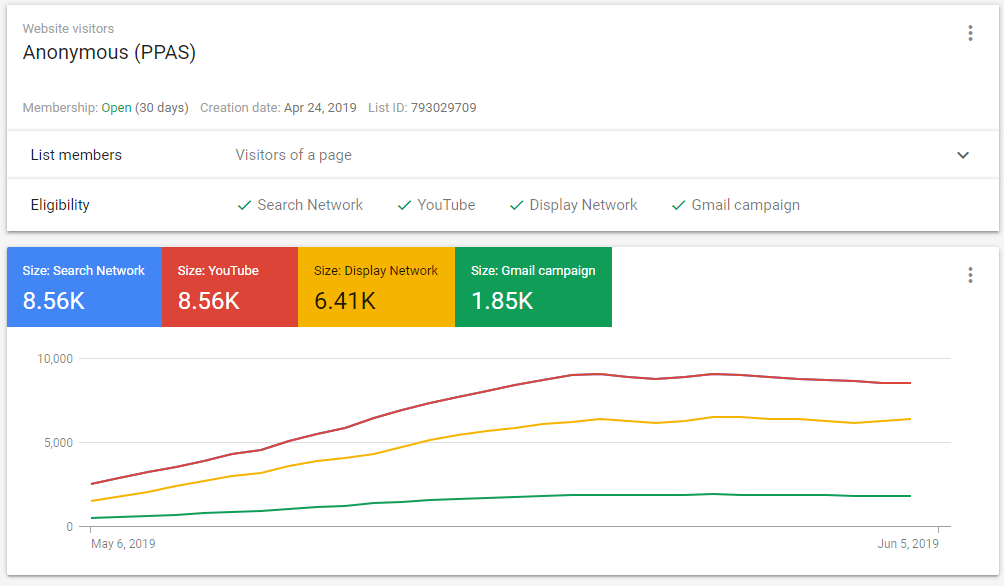 Once DSPs and ad platforms have the audience members mapped, you can see the size of the audience targeted for each type of campaign. With all this information, you can launch laser-focused retargeting campaigns for individual audiences.
Let's follow the steps of a retargeting campaign after integrating the CDP with ad platforms. Carrying on with our example, we will plan actions to get members of Audience 1 to work their way down to Audience 5.
Each audience has its own campaign. As users move from one audience to another, they are automatically added to the retargeting campaigns for their audience and stop seeing the previous campaigns.
Keeping track of anonymous visitors
A first-time visitor comes to your ecommerce site. All you know about this individual is what's been captured via your web analytics platform – you don't have their name, email, address, etc. There is no record of this visitor in your CRM yet; they aren't customers and are assigned to "Audience 1: Anonymous user".
Two things automatically happen as a result of this visit:
A single customer view is generated for the visitor in the CDP platform. It will serve as a link between web analytics, CRM, and transactional data and will be responsible for tracking the full customer journey of this specific user.
Audience 1: Each single customer view meeting the conditions set up for Audience 1 – anonymous user, most likely first-time visitor to the website, not yet a customer – will automatically be added to Audience 1.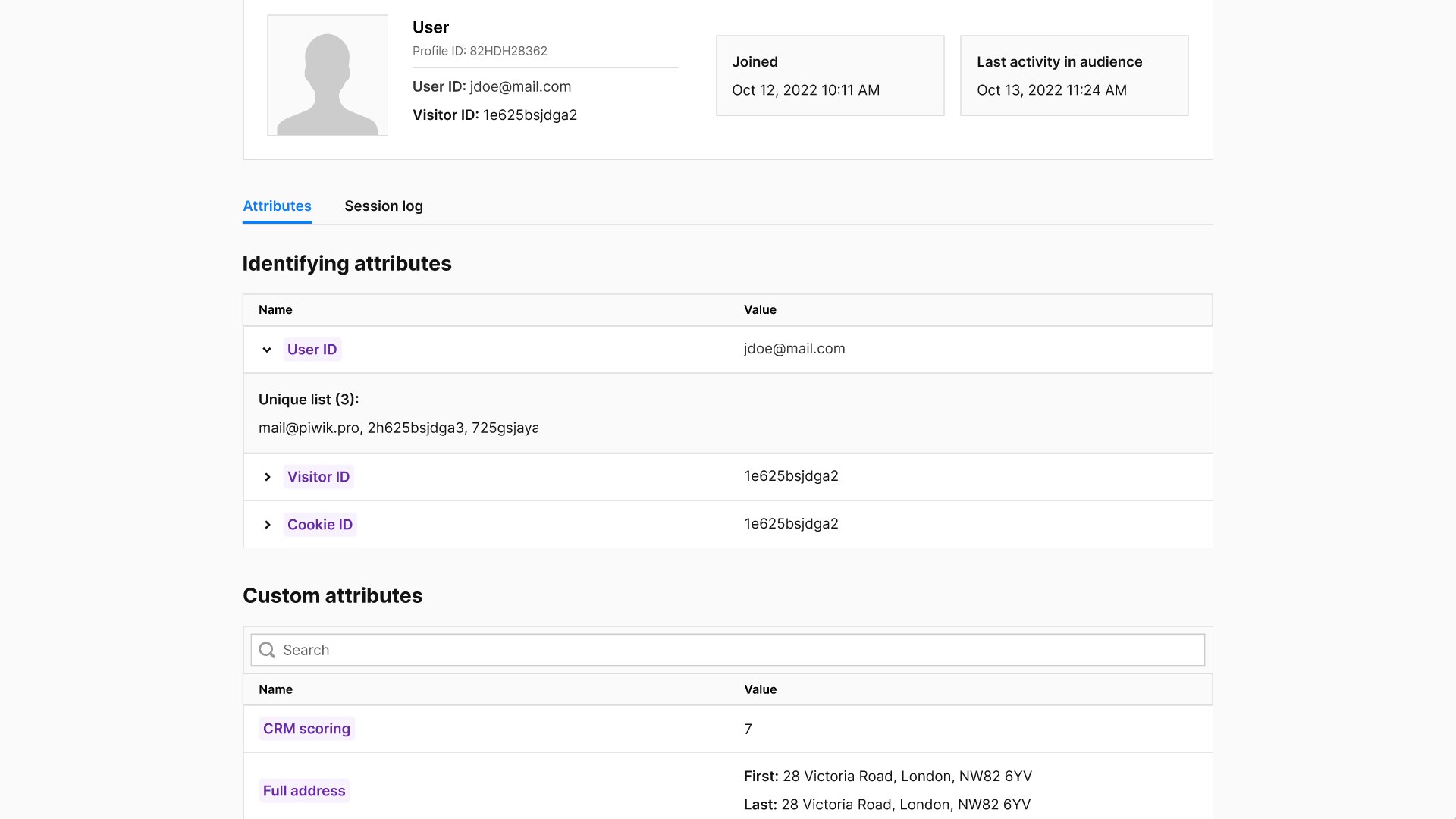 On the CDP side of things, users are segmented into different audiences that correspond with journey stages and tracked as they move through them. You also have a detailed single customer view for every individual in all the audiences.
How do you convert unknown visitors to customers and increase customer lifetime value? By activating your data through integration with the ad platform.
Converting from anonymous to known visitor
An anonymous visitor viewed your store, visiting several product pages and then leaving without making a purchase. You want to help move this visitor to the next customer journey stage – "Audience 2: Known visitor."
To get this visitor's information – or, better yet, have them make their first purchase – send anonymous users from Audience 1 to an ad platform like Facebook Ads, Google Ads, or DSP and launch a retargeting campaign.
Some strategies to gather the data needed to identify the visitors include:
Encourage visitors to subscribe to your newsletter and get a discount on their first purchase.
Ask visitors to sign up for your upcoming webinar or another event.
Get visitors involved in a prize competition on social media.
Convince visitors to purchase a "tripwire" offer – typically an inexpensive offer that "gets your foot in the door" and creates the opportunity for upselling or cross-selling.
Once we collect basic CRM data like email, name, and perhaps also address, it will also appear in the single customer views in the CDP. At the same time, each user profile is assigned to the appropriate audience, which in this case is Audience 2 (Known visitor).
From a known visitor to a first-time customer
You've managed to engage visitors with your brand, but how do you get them to convert?
Here are the possible objectives for campaigns focused on turning known users (Audience 2) into first-time customers (Audience 3):
Incentivize the known users to take advantage of a "first-time purchase" discount.
Target the users with content that highlights the benefits of buying from your company, like free shipping, competitive pricing, or unique products. 
Show relevant product recommendations for each visitor based on their previous interactions with your company.
If successful, this campaign will take known visitors to the next step in their journey. As soon as they make their first purchase, their single customer profile is again updated with the acquired information and moved to Audience 3.
Getting first-time customers to come back
To help first-time buyers become repeat customers, you can:
Provide discount and promotion codes applicable to the customer's second purchase. Send these right after the first purchase: customers who've made one purchase are more likely to make another.
Promote cross-selling offers using ads or email marketing. 
Offer a rewards-based loyalty program for returning customers.
Communicate with customers after the first purchase. For example, request their feedback to find out what you can improve about your offer or craft useful content for your newsletter featuring your new products and upcoming promotions.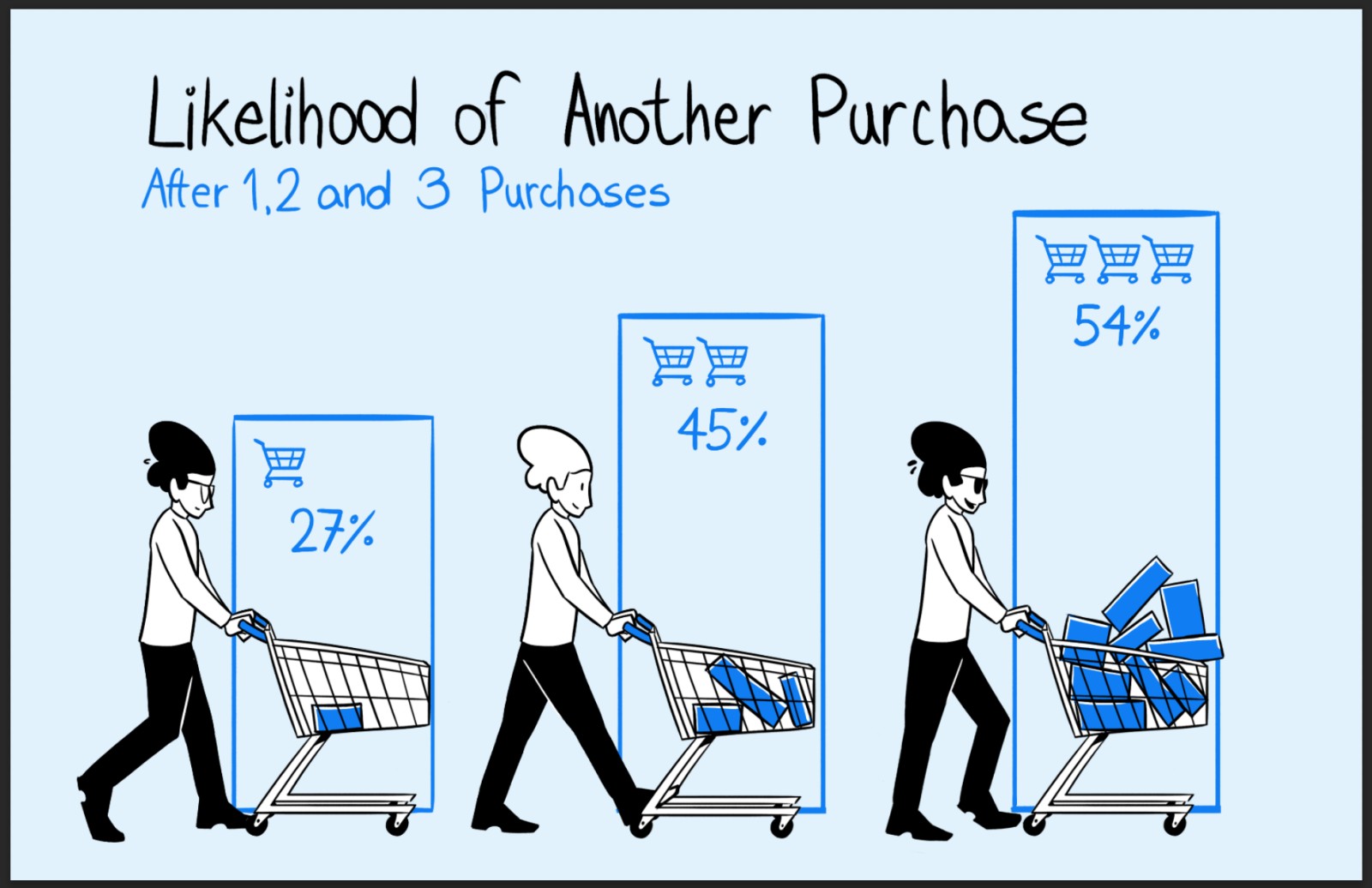 This campaign's main goal is to retain customers and increase their lifetime value by encouraging more purchases.
Again, single customer profiles are assigned to audiences based on the specified conditions. In this case, after a second purchase has been made, the individual's profile is moved to Audience 4: Returning customer.
How can you influence brand advocacy?
The final step is making returning customers into brand advocates. Advocates elevate the brand through word-of-mouth marketing and other advocacy methods, spreading positive reviews and helping refer new customers.
Ensure you provide a consistently good customer experience with every aspect of your product and brand – for example, by resolving customer issues quickly.
Some potential strategies for the campaign targeting this audience could include:
Asking for new customer referrals in exchange for discounts and gifts.
Encouraging feedback on social media or a rating website, or acquiring testimonials, typically in exchange for incentives such as promotions, extra products, or features.
Success at this stage means bringing in new customers referred by your current customer base, driving word-of-mouth marketing, and increasing your brand's social proof on social media and rating websites.
Free comparison of 7 enterprise-ready customer data platforms
Get to know over 50 key differences to determine which platform fits your business needs best: Tealium, BlueVenn, Exponea, mapp, Segment, mParticle or Piwik PRO.
Conclusion
You can see how to integrate and customize tools you already use, like web analytics, CRM and CDP, to create automated marketing campaigns. By activating customer data, you get to group customers, monitor their customer journey, and influence them to take the next step.
We hope this post has shown you an example of how some "outside of the box" thinking can help you extract more data and insight from your platforms and better understand how customers interact with your brand.
Have any questions about Piwik PRO's integration with ad platforms or other ways you can use it to better understand your customers?
Don't forget to check out the Piwik PRO blog and read about other ways customer data platforms can help you achieve your business goals: