How can you measure your content's efficiency when the data you need is spread across multiple reports? The answer is simple: with a Content Efficiency Report. It's flexible, so you can adjust it to your specific needs, and it brings all the vital data together in one place. This custom report will help you understand how different messages and content perform across different steps in the customer journey.
The report can be used as a horizontal representation of your funnels (horizontal funnels). It helps you quickly spot and fix bottlenecks in your sales funnel. What's the tell? Poor performance at the middle or bottom of the funnel KPIs.
In other words, you can figure out which article or page works best as entry content attracting high volumes of traffic, and which is slowing things down.
Moreover, it's really handy for publishers and content marketing teams who need help designing better ads within the content. Better content means more ad clicks, which means more revenue.
In short, you'll solve the mystery of what content moves the business needle and has the biggest impact on your KPIs.
Breaking down your landing page by specific stages of the funnel is a good place to start. In this post we'll show you how to do it, and then how to discover the type of content – whether it's pictures, reviews, videos, demos or banners – that draws customers to your site and brings value to your business.
Step 1. Set up a Content Efficiency Report
Fortunately, getting your report right doesn't take much effort. Just a few clicks and you're ready to go. Select the explorer table to better drill down into your analysis, and we can get started.
Choosing suitable metrics
First, you need to select the right metrics from the list, such as:
Entries
Bounce rate
Average number of unique page views per session
Average total session time
Goal conversions
Goal conversions rate

Remember: when it comes to your choice of metrics, a lot depends on what you want to achieve. In Custom Reports you can define your specific conversion goals in the report, save them, and choose from the list whenever needed.
For instance, here you can pick the ones we've created for this particular analysis:
Contact form goal conversion
Click phone number goal conversion
WP download
You can define your own specific goals that are crucial for your business. Whatever the option, you can add another column with as many goals as you like. And if you need to make some adjustments later on, you can easily edit the report.
Here are some examples of configured goals:


Choosing suitable dimensions
Next, pick the key dimensions for precise analysis and deeper segmentation:
Session entry URL
Session second URL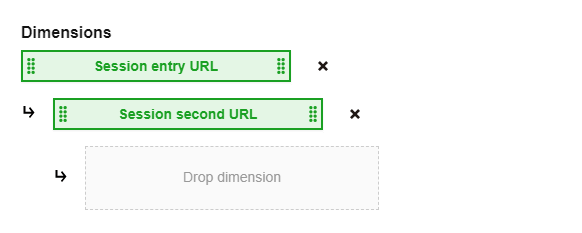 Step 2. Search for critical first touchpoints in the customer journey
It's vital to make sure people who come to your site find it engaging and won't bounce off. That's why the initial stage of analysis should focus on users' first impressions. You need to be taking a closer look at users' first touchpoints.
That's important to establish which blog posts and articles work best as top of the funnel content to attract high traffic volumes to your site.
Start by using Session entry URL and sorting pages by Entries. In this way you can easily figure out how often these pages act as your homepage. Then check which sites have an unusually high bounce rate. This is a good clue that something is going wrong with your content.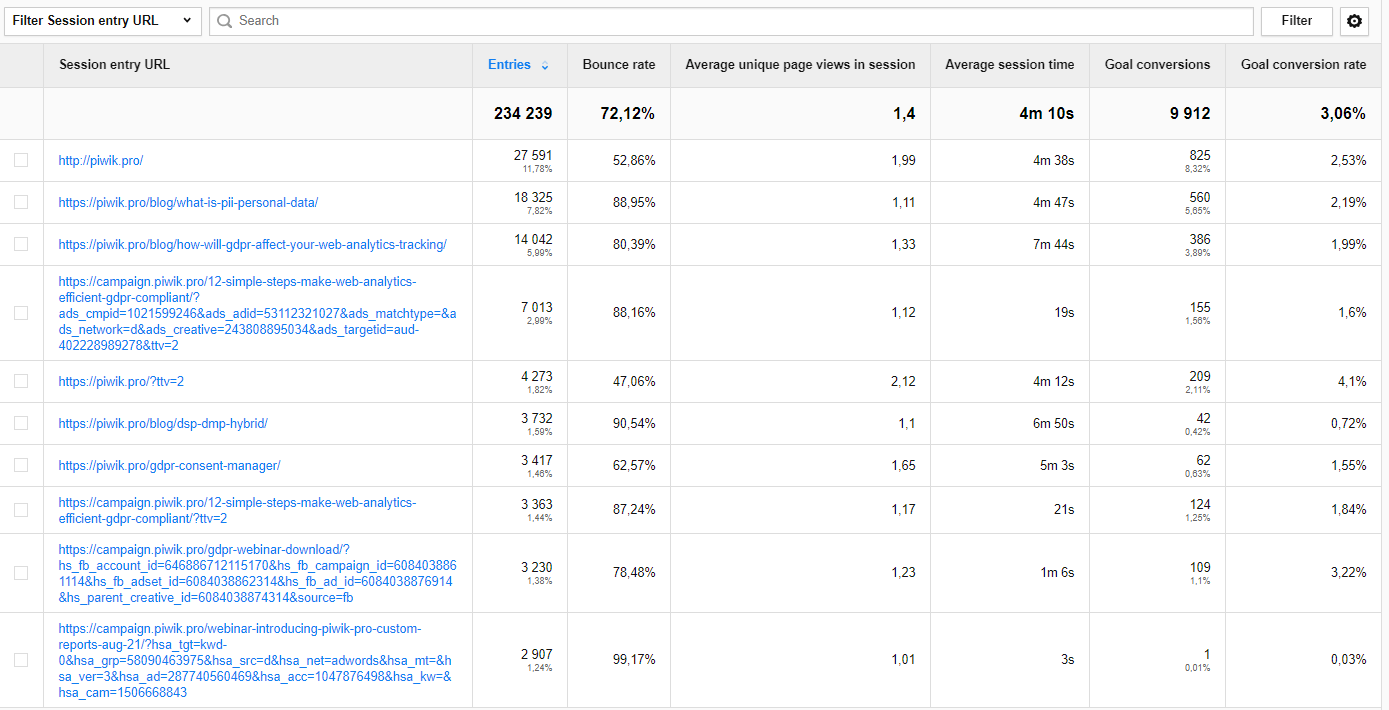 On the other hand, if you want your analysis to go deeper, just click on the link to see where a particular site directs the user.
For instance, you can see if visitors move from a specific session entry URL (in this case product page) to another product, contact or landing page.


Step 3. Look closer at the middle of the funnel
As we move deeper into the funnel, we need to shift our focus and evaluate more specific content groups and sections.
Keep in mind that not all content is equal, and not all content helps you achieve the same goals. The content on your site is designed to serve a certain purpose. Some content can be transactional, like your product and service pages, while other content is informational or entertaining. The takeaway here is that each type requires a separate approach and analysis.
Here's the setup we used to drill down into our reporting by setting some specific conditions to get a more precise analysis. You can also filter your reports by typing the keywords.
Here's what it looks like: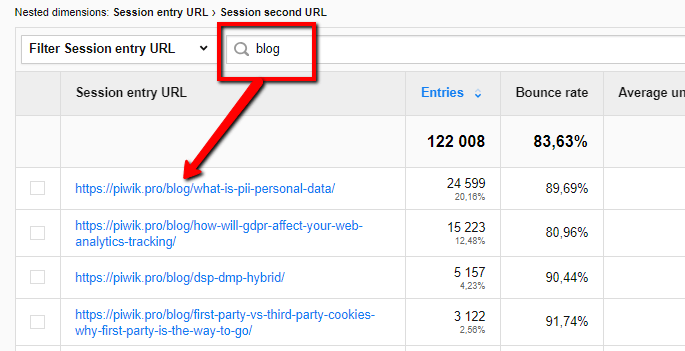 That's the result of filtering entry session URL to show only blog posts.
Once you've set up the report, you can go further with the analysis – that means taking care of of your content consumption and engagement KPIs. You want to know what type of content is the most engaging and makes visitors stick around.
This report will reveal:
How many pages someone visits within one session which begins at a particular URL
What content was consumed more or less.
Take an up-close look at one of the key metrics – Average time on page – and learn how captivating visitors find your content. Here you can see not only the time they spend, but also get info about micro conversions.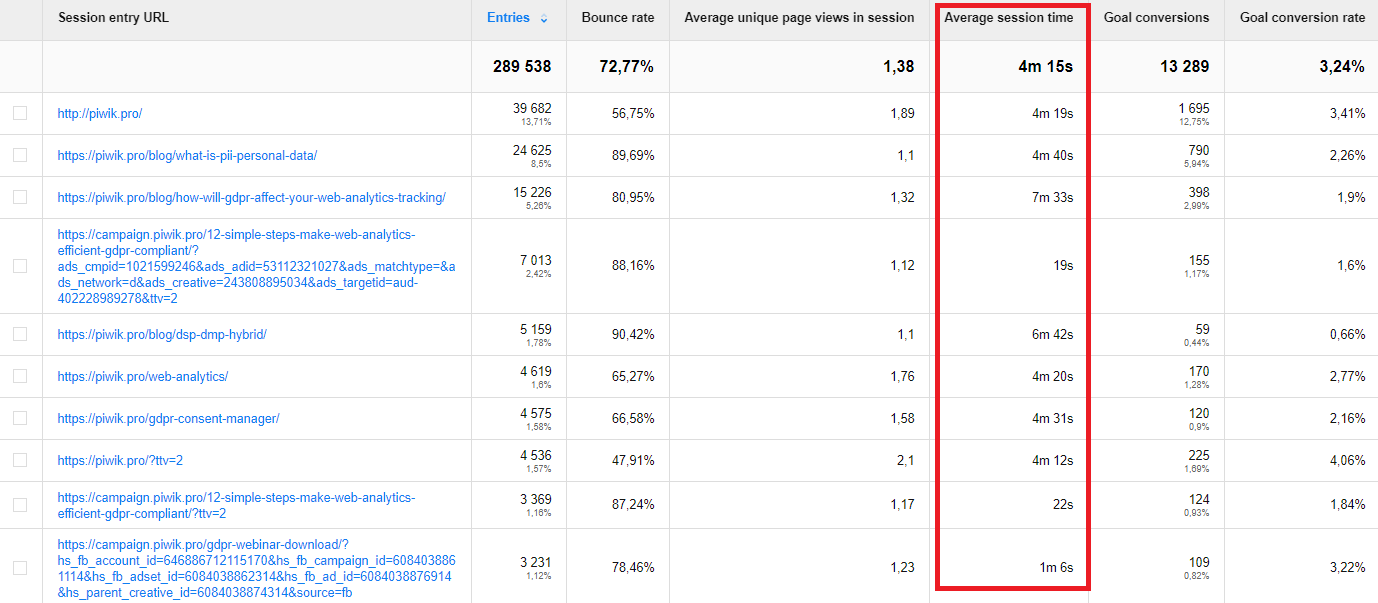 A higher Average session time value means that the content sparks the user's interest and has contributed to increased pageviews. Truly engaged users will drive more unique pageviews during a single session and spend more time browsing the site.
What's more, if average session time is higher compared to other session entry URLs, that can also mean that this page drives more quality traffic.
Step 4. Look into the bottom of the funnel
As your visitors flow through your site and immerse themselves in your content, they go deeper and deeper into the funnel. It's promising when they reach the bottom, but their journey doesn't end here – and nor does your analysis.
The final stage of the funnel is the part that gives the most value to the Content Efficiency Report. Here you can find the key results and see if the site is achieving its main goal.
To be precise, by "main goal" we mean whether a particular piece of content or landing page leads to conversions. The Goal conversions and Goal conversion rate metrics reveal how much impact a particular page might have on the value your business obtains.
After all, keeping your visitors on your page for longer is great, but if they don't convert, you might be missing your target.
Below you can find the overall goal conversion rate metrics that are crucial in analyzing the bottom of the funnel: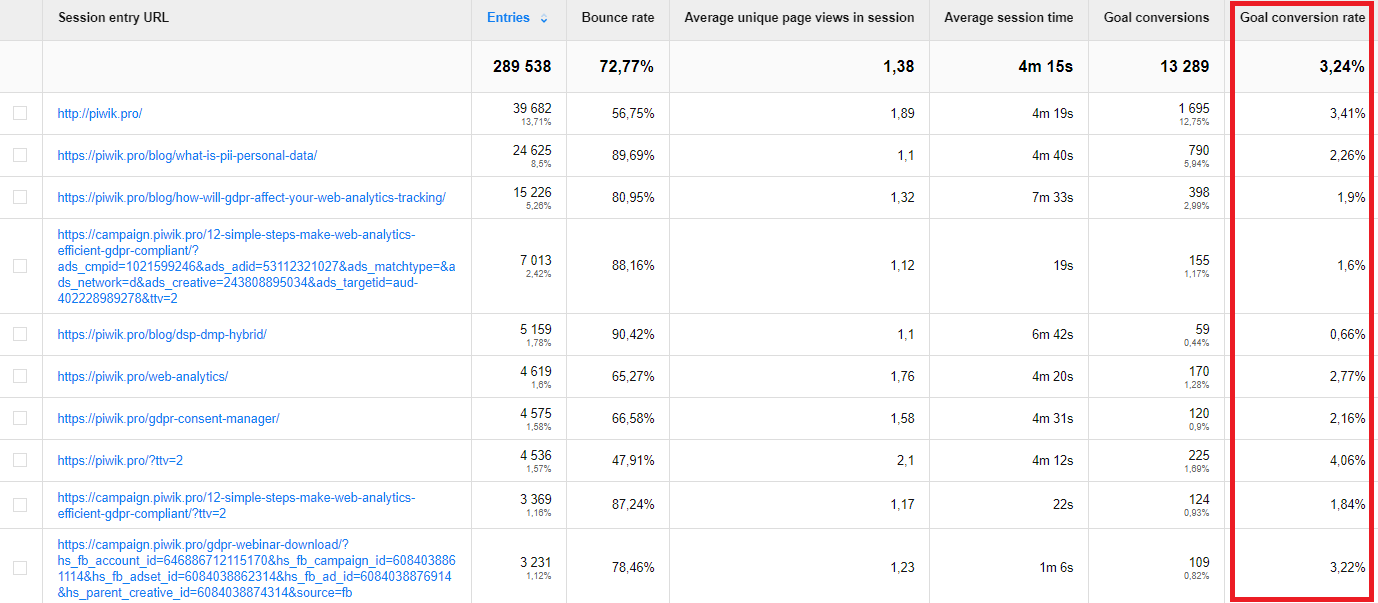 Let's have a look at a precise goal that was defined for a particular product page :


The numbers here mean that this page drove over 4,500 entries to our website, leading 41 users to fill out the contact form.
Report analysis in a nutshell – Conclusions
Once you know how to set up the report and what metrics to focus on, it's time to put all the pieces together and analyze the report as a whole.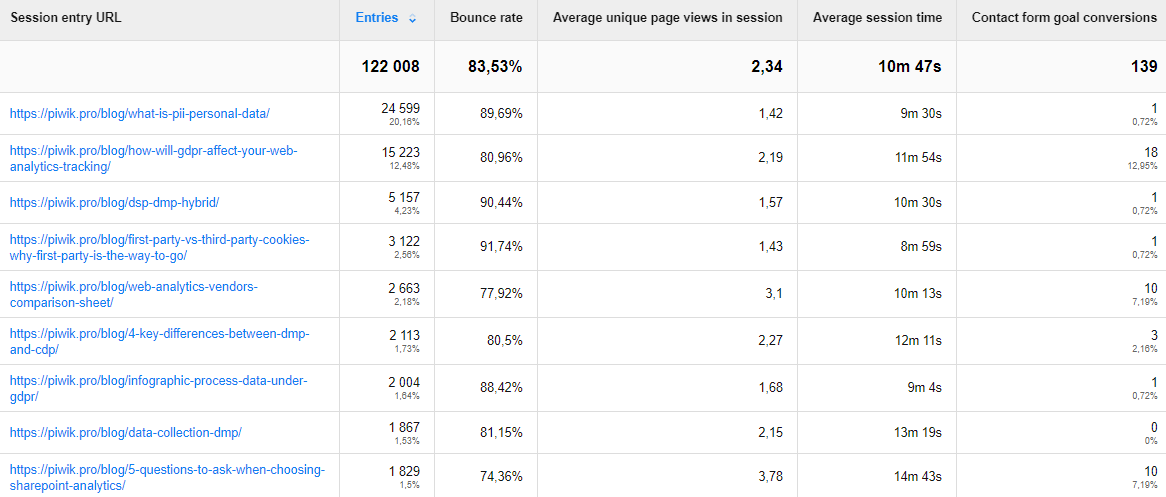 Let's start with the best performing sites.
First place belongs to:
https://piwik.pro/blog/how-will-gdpr-affect-your-web-analytics-tracking/
80.96% bounce rate is lower than the average of 83.53%
11m 54s average session time is higher than the average of 10m 47s
18 of all contact form conversions occurred in sessions that started with this particular blog post
Second place is taken by another post:
https://piwik.pro/blog/web-analytics-vendors-comparison-sheet/
The bounce rate is lower than the average
The average session time equals the average level
10 of all contact form conversions occurred in sessions that started with this particular blog post
Finally, the bronze medal:
https://piwik.pro/blog/5-questions-to-ask-when-choosing-sharepoint-analytics/
Lower bounce rate than the average of 83.53%
It has a higher average session time than average 10m 47s
10 of all contact form conversions occurred in sessions that started with this particular blog post
Now it's time for analyzing sites performing worse than we'd like.
The first one here is:
https://piwik.pro/blog/what-is-pii-personal-data/
89.69% bounce rate is higher than the average 83.53%
9m 30s average session time is lower than the overall average of 10m 47s
And it shows only 1 contact form conversion
The second is also a blog post:
https://piwik.pro/blog/data-collection-dmp/
Lower bounce rate than the average 83.53%
Higher average session timethan the average 10m 47s
It didn't generate any conversions
However, when it comes to analysis, everything depends on your business goals, the purpose of your website and the micro and macro conversions you want achieve. For instance, your macro conversion could be finalizing a purchase, while a micro conversion could be just a newsletter signup.
Conclusions and insights from the Content Efficiency Report
Finally, once you've set up the report, browse carefully through its results and study all the numbers. But if you're still wondering what, exactly, you can get from it, here are four key issues that you'll get insight on:
What content is effective in driving engagement.
What content is most attractive for new users – what makes them stick around and go deeper into the funnel.
What content is underperforming, making users bounce and harming the user experience.
What drives the most conversions and offers the best return on investment.
Whenever you need to decide what type of content to publish, this report is one that will give you guidance.
Final thoughts
"Content is king" – this is true now more than ever. It's crucial to make sure you've got everything you need to make your content thrive. This demands a tool that helps you measure your content's performance with custom reports like the Content Efficiency Report.
We hope that with this post we've helped you understand how to use the report to the benefit of your organization. It's a complex issue, so if you have some questions, don't wait to drop us a line – we're here to help!