The hardest part is getting started – this rule applies perfectly to the the conversion optimization process. When it comes to web analytics there is no better place to begin than with Funnel Reports. In this article we will discuss everything from how to set up your conversion funnel in Piwik PRO to CRO insights and some popular funnel set ups we have seen.
Funnel Visualization in Piwik PRO is probably the single most powerful report that can help you lift your conversion rates. The Piwik community was quite persistent in requesting this feature for a long time. So we added it to our premium feature stack to make it available for all our On-Premises and Cloud subscribers.
Tips and tricks on how to set up your conversion funnel
We've already discussed how to set up funnels in Piwik PRO in our user guides and in this blog post. Here I would like to outline a few tips and tricks that might be extremely helpful when setting up funnel reporting.
1. Use the Click Path report to set up the correct conversion funnel steps
First of all, you need to identify the steps that your users take when moving towards the desired conversion.
Before we jump to the setup window, it is recommended to find some sort of confirmation in data. If you have been into online marketing for a while now, you are aware that users tend to find their own, unexpected paths before they subscribe to your newsletter or purchase your products. It often happens that your initial assumptions about how users reach conversion are way off the mark.
A good practice is looking at another Piwik PRO report called Click Path (check out this User Guide for more information). If you have set up your goals correctly, Click Path will do the rest of the job for you. With reverse engineering it will show you the most popular paths your users take on their way to goal completion.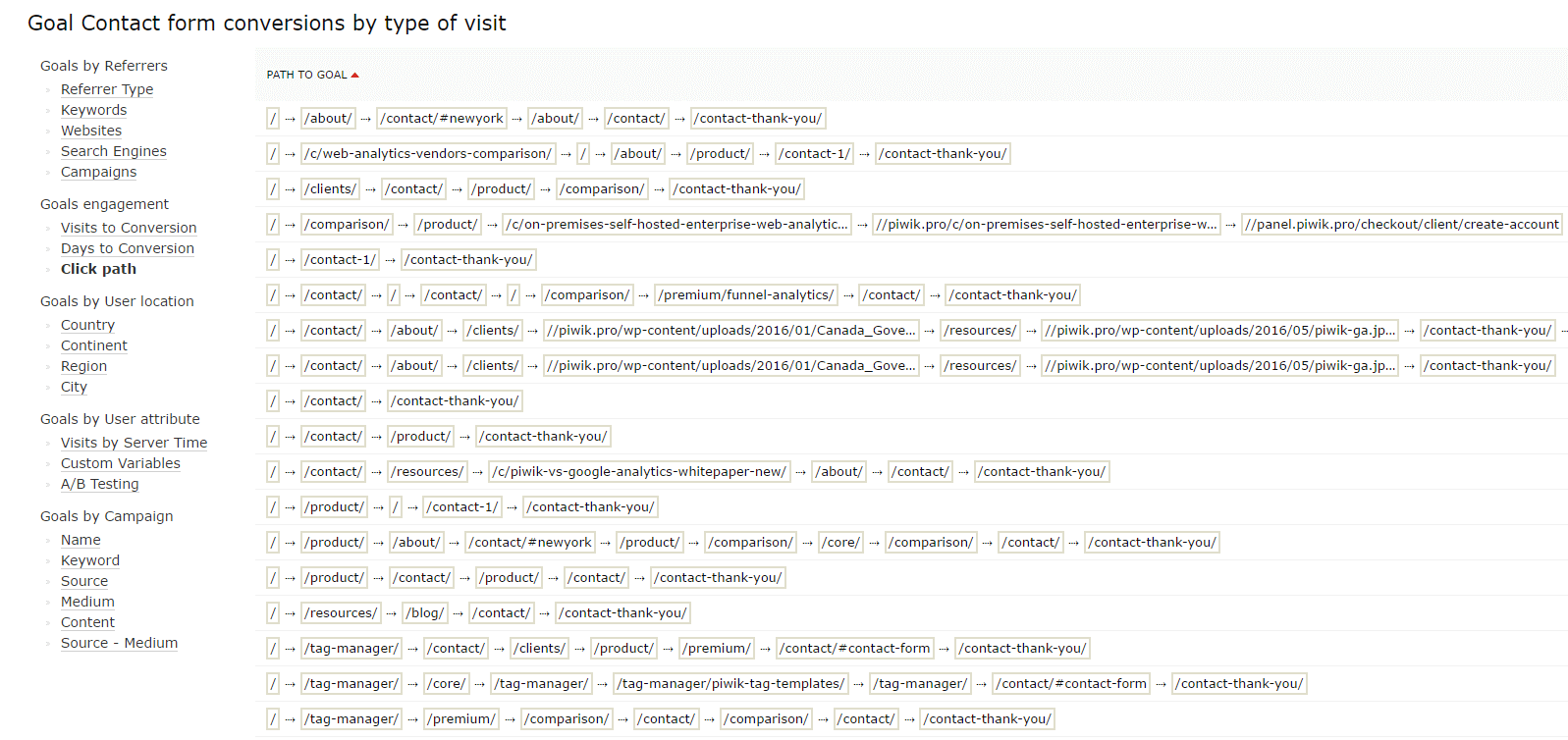 Your task here is to look for patterns in the conversion paths of your users. Try to answer some questions like:
What are the most popular first steps in conversion paths on your website?
What are the most frequently repeated mid-steps in conversion paths?
What are the most frequently repeated final steps just before users reach the goal?
Free Ebook: How to Improve the Digital Journey in Healthcare with Web Analytics & Personalization
Learn all the important aspects of optimizing the customer experience on your patient-facing platforms while remaining in full alignment with data privacy regulations (including HIPAA & GDPR)
Download FREE Ebook
The result of this research should be at least 2 or 3 funnel ideas for your website.
Note that even if you already have your funnels up, jumping into Click Path reports may help you discover some new, unexpected paths and funnels.
2. Be careful before adding a new step to your funnel
Deciding if a single step is necessary for your funnel is hard. If you choose an optional step as a required one it may provide you with a false overview of your funnel.
Nowadays most funnels are not linear paths, and most steps are optional. Big websites tend to create countless possibilities for considering multiple scenarios. In most cases there will be no more than 1 or 2 required steps in your funnel.
This is especially applicable for steps like shopping carts, sign up forms, lead capture forms, payment and delivery forms.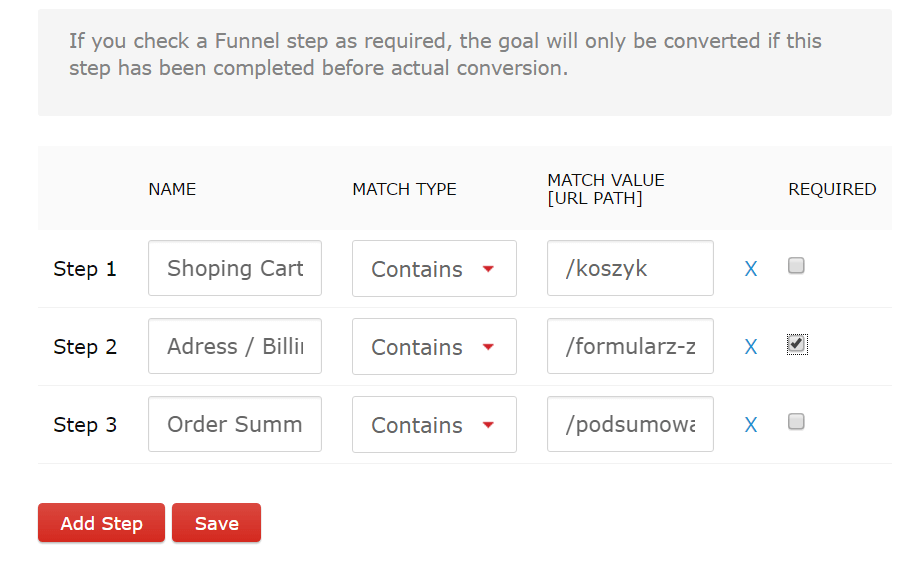 What's the risk? If you decide to require what is ultimately an unnecessary step, your funnel report may be incomplete. You will miss the data of users who enter the funnel while bypassing the required step. This will not only skew your drop off rates, but can also lead to mistaken insights and bad business decisions.
3. Applying virtual page view and virtual steps to your conversion funnel
This is a very useful trick for e-commerce websites and other online businesses using external payment services like PayPal, Skrill and BrainTree.
External payment is one of the key steps that we can't track in our web analytics. In many cases marketers would simply skip this step and set up a funnel as if it was never meant to be there. But it is there and it does affect your conversion rates… leaving out the external payment step will leave you unaware of issues it may cause to your customers.
Fortunately, there is a tried-and-true solution to this problem called Virtual Page Views, which allows you to attach a virtual page view to any event of your choice. Simple, right? This could be a button click, a video play, or any other action performed by a single user that does not cause the page to reload. By default such actions are not recorded in your Piwik PRO reports. So how can you take advantage of this functionality when setting up funnel reports?
When one of the funnel steps is a pop up or a push notification, you can attach a virtual page view to it. This will make it reported like any other static page.
Example: "/pop-up-funnel-step" allows you to add it during funnel set up.
When one of the funnel steps is an external payment gateway where you can not place Piwik PRO tracking code, use virtual page views to report an event in Piwik PRO where users are redirected to an external website.
Example: "/external-payment-gateway" allows you to include visiting your vendor website as another step when setting up the funnel.
When one of the steps requires clicking an external link, or a dynamic element that does not cause the page to reload, or doesn't open a file like a PDF. Those can also be tracked as a virtual page view.
Example: "name-of-the-file.pdf" or "address-of-the-external-link".
Setting up virtual page views may require some basic technical skills from a marketer. However, it can be easily done with Piwik PRO Tag Manager. Learn more about how to do that from this blog post.
4. Test your funnel setup, especially if you use RegEx
Always test your funnel after initial setup.
It may seem like a no-brainer, but prevention is always better than cure. If you are using Regular Expressions or virtual page views, there is a risk of error you cannot ignore. If you are able to send a decent volume of users towards your funnel, then the task will be fairly easy. It will take just a moment to identify some trends in user behaviour.
However, if you run a small website then you will have to take on the role of a user and go through the funnel on your own. When you know that Piwik PRO should collect some data about your funnel there are two places that will help you verify if you are getting the right info.
Step 1:
First, you can navigate to the visitor log report. If you have gone through the whole funnel on your own, you should be able to identify your own visit. You can do this by finding your own IP address, for example. Using the visitor log report you can check if Piwik PRO is capturing the goals and virtual page views you set up. When you confirm that it is, you can navigate to another report.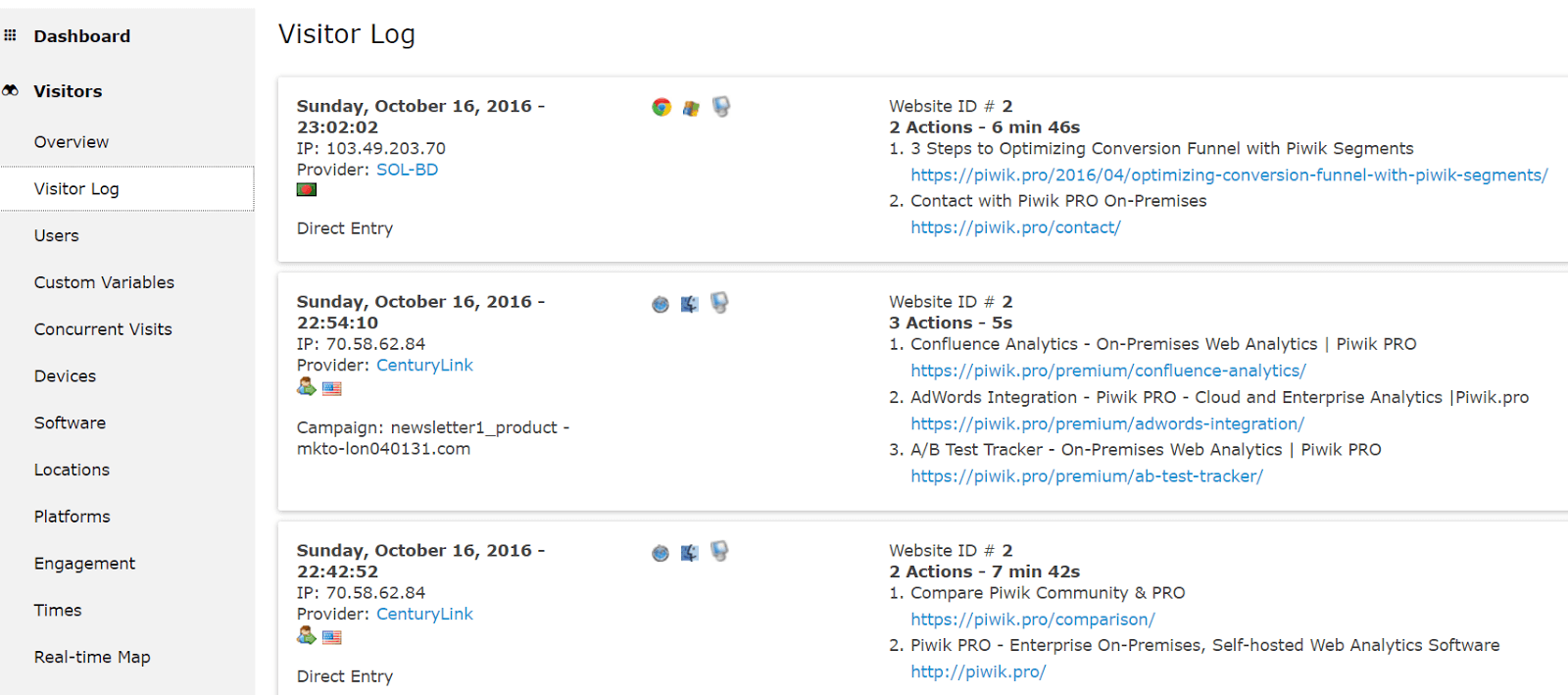 Step 2:
Depending on your Piwik PRO set up, it may take from a few minutes up to 30 minutes for the funnel report to start showing data: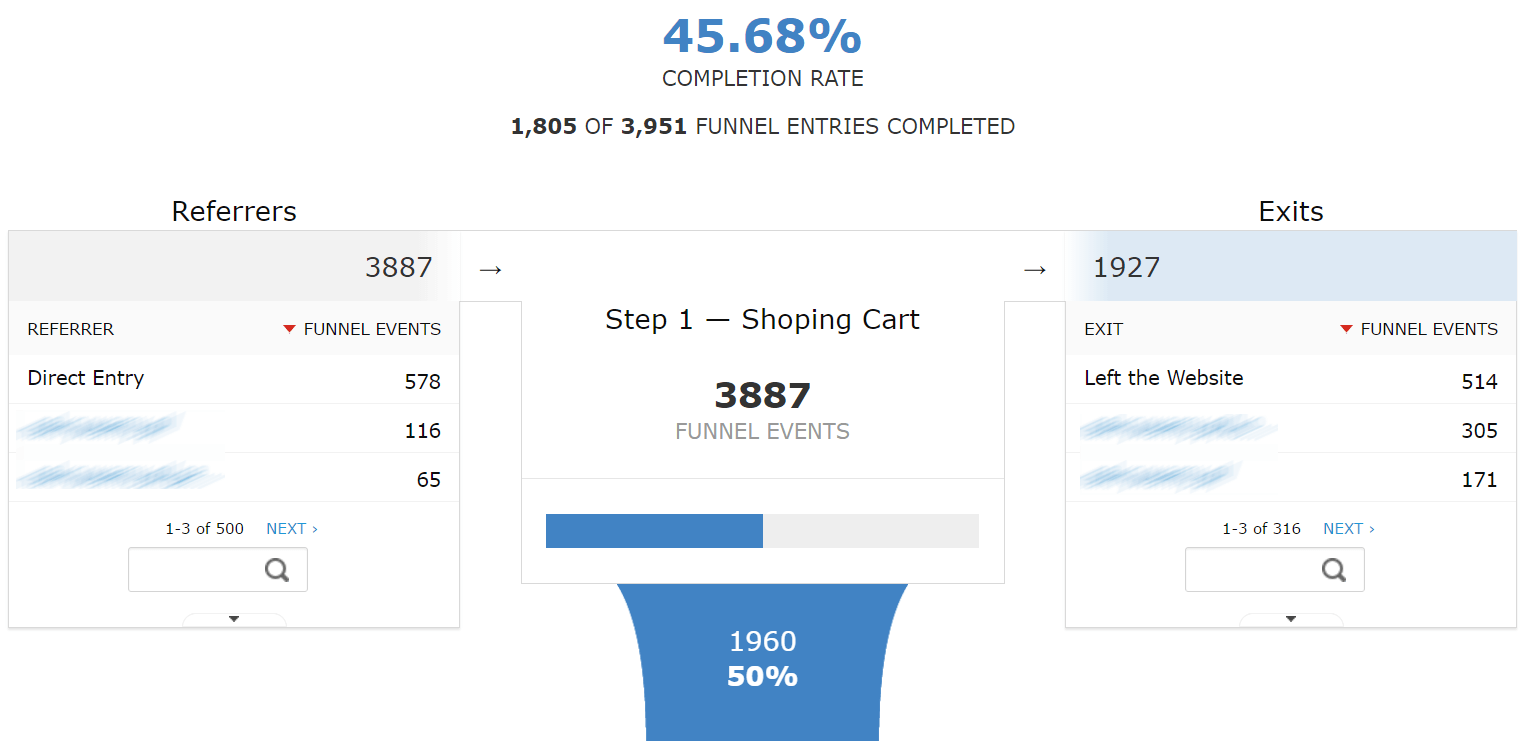 Make sure you do not encounter any of the following issues:
You see in your visitor log that you have reached the goal URL. However, there is no data for this goal in the Funnel Report.
In most cases this means you used the wrong condition for the URL to meet your goal. Sometimes it is better to use content or a regular expression pattern instead of an exact match, even if you think you know your goal URL.
You have been gathering conversion data for a few days now and you see that there is a 100% success rate at each step of the funnel.
This may be because your funnel is perfectly efficient and incredibly successful, but almost never is this the case. This often happens when you have used a regular expression as a condition for your goal URL. If done not properly then your regular expression will also affect the conversion funnel steps, and in the end Piwik PRO will recognize each step of the funnel as a goal URL. If this is the case you may want to change goal conditions to "contains", or improve your regular expression.
When you see that most users enter your funnel in places you did not predict.
This is usually a result of improper identification of your funnel. It can be fixed by going to the Click Path report and redesigning your funnel to match the most popular paths taken by your users.
You encounter a "required step" issue.
Whenever you use this option make sure that the step you mark as required is indeed obligatory. If there are optional paths and bypasses to this step you will notice an excessively low conversion rate. It may suddenly drop to zero with the step that you have marked as required. Once again, a quick fix can be applied after reading the click path report and analyzing the real conversion paths taken by your users.
Example funnel set ups in Piwik PRO
Last but not least, I will share with you some examples of the most popular funnel set ups we have seen in Piwik PRO. They will give you a better idea of how your own funnel may appear and how you can improve it further.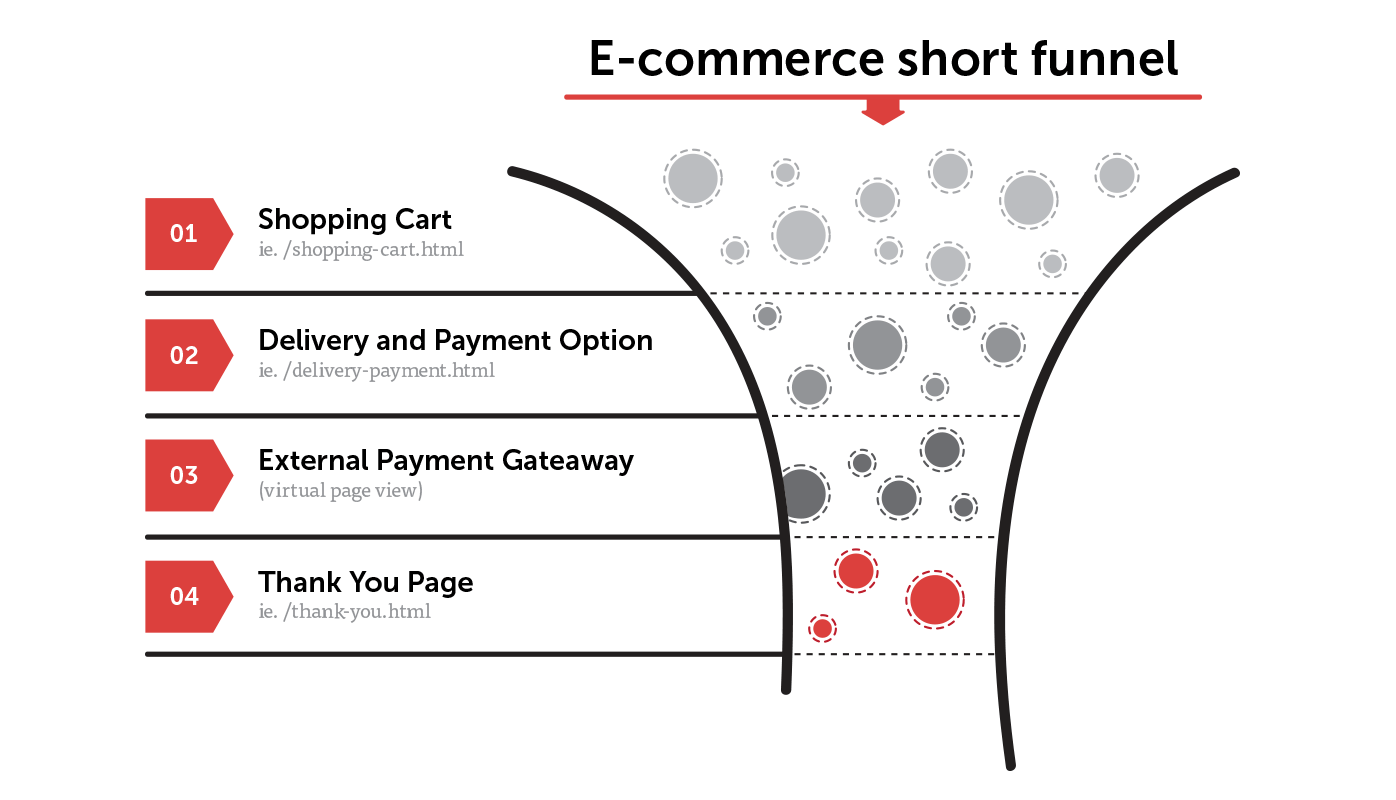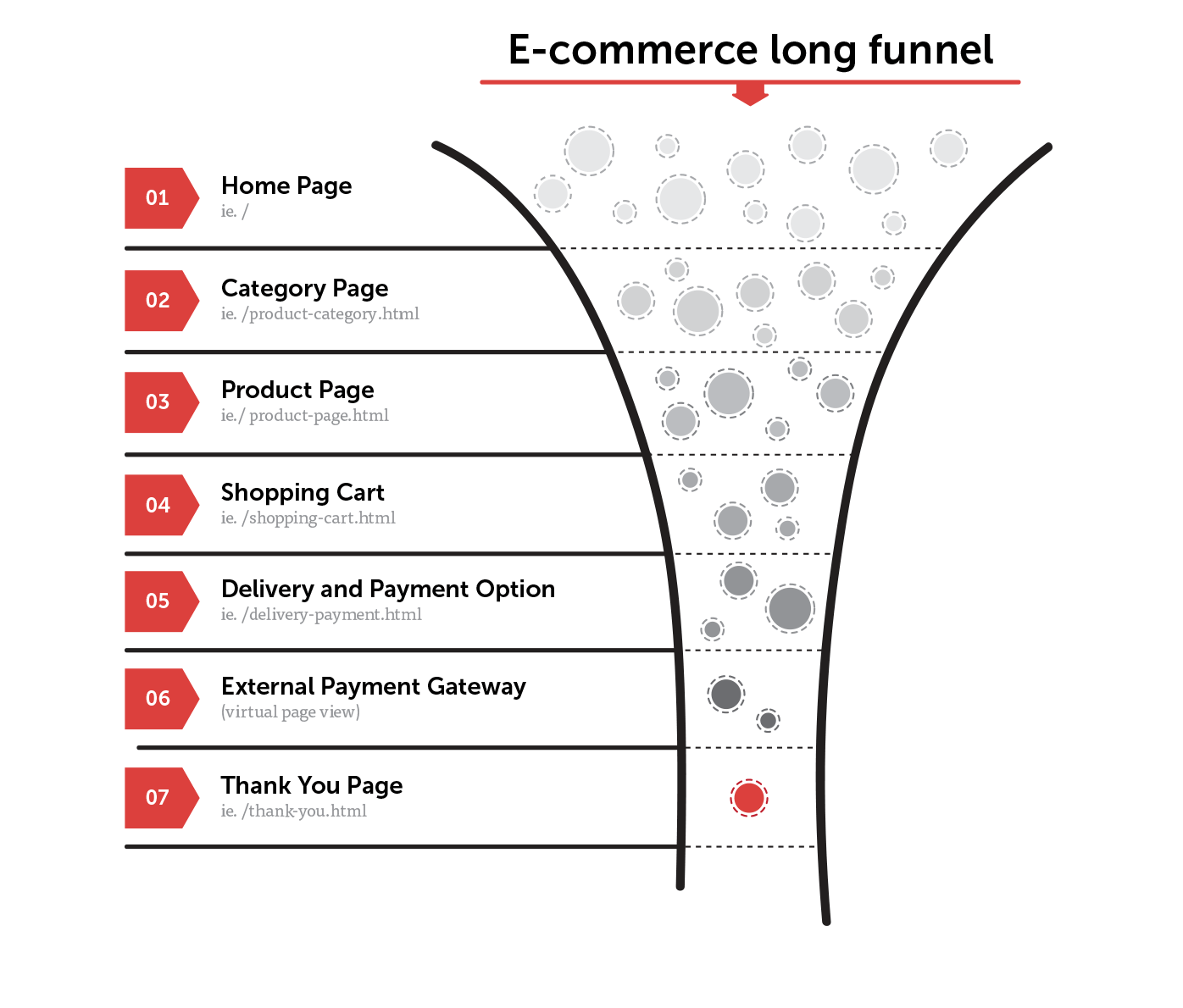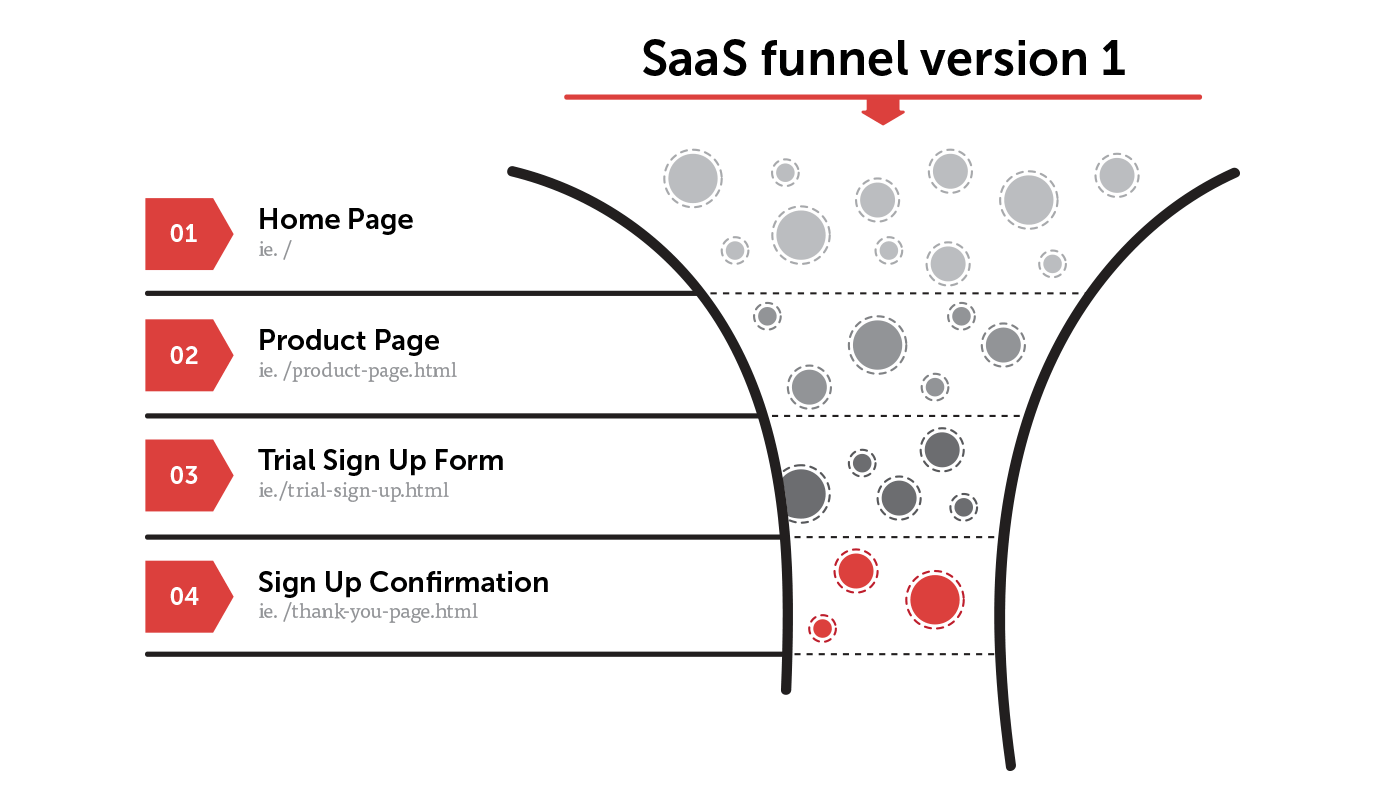 Remember that there is no one-size-fits-all solution. There are thousands of other possibilities and you should seek the best one for each visitor group and each website type. We hope that you now have a better idea about how to approach funnel set-up in Piwik PRO in a structured and accurate manner.
If you feel we should cover other topics related to Piwik PRO funnels chech out our Funnel Analytics User Guide and don't hesitate to contact us at content@piwik.pro, or leave us a comment in one of our social media channels!
Free Ebook: How to Improve the Digital Journey in Healthcare with Web Analytics & Personalization
Learn all the important aspects of optimizing the customer experience on your patient-facing platforms while remaining in full alignment with data privacy regulations (including HIPAA & GDPR)
Download FREE Ebook