Marketers devote time, effort, and all possible resources to track their visitors' journeys from start to finish, improve content, and provide the best customer experience possible.
However, a focus on mostly fleeting results means you need to do more. Organizations that want to ensure long-term success include measuring customer lifetime value in their strategy.
What is customer lifetime value (CLV)?
Customer lifetime value is a primary metric for understanding your customers. To be more precise, it's a prediction of the value your relationship with a customer can bring to your business.
This approach helps organizations demonstrate the future value they can generate from their marketing initiatives. That's why your evaluation of investments should be done on the basis of long-term profits rather than short-term wins.
As noted in one outstanding marketing guide: Rather than thinking about how you can acquire a lot of customers and how cheaply you can do so, CLV helps you think about how to optimize your acquisition spending for maximum value rather than minimum cost.
Focusing on CLV allows you to design an efficient strategy with more concise budget planning. Your customers aren't equal, in the sense that some bring more revenue than others.
So it's crucial to know which ones you should focus on first and invest in. And it's no secret that retaining a happy customer is cheaper than acquiring a new one.
Since you can't be sure how long this relation will last, you can estimate it and state CLV as a periodic value. Depending on your business it can be set for different time frames, but commonly it's fixed for a 12 or 24-month period.
Why you should you calculate CLV
First of all, one of the key reasons to measure CLV is customer retention. The numbers speak for themselves – as Marketing Metrics reveals, 5%–20% the probability of selling to a new prospective customer whereas 60%–70% the probability of selling to an existing customer.
It means that selling more to repeat customers will bring significantly more profits. That also underlines the importance of promoting customer loyalty.
According to statistics presented by
Gartner
,
80% of your company's future revenue
will come from just
20% of your existing customers
.
Once you know this golden rule, you need to dig a bit deeper. Your customers, including existing ones, aren't equal when it comes to revenue per customer, cost per acquisition, and other metrics.
So, by measuring CLV you can better evaluate how much you should invest in retaining your current customers. Also, it helps your organization to plan further spending and divide your budget between retention and acquisition.
Including customer lifetime value calculations into your strategy helps define specific marketing goals along with sales strategies to lower acquisition costs and keep retention high.
Moreover, it lets you devote more resources to encouraging your customers to spend more over their lifetime with your brand.
But that's not all.
CLV gives you a closer look at your business' health by taking a longer time frame into account. You can evaluate with greater precision whether your current acquisition and retention strategy is designed for scoring quick wins or rather supports steady and sustained growth. Finally, CLV serves as a touchstone for prospective expansion.
Customer lifetime value provides you with a wealth of relevant information on your users and clients. It allows you to answer crucial questions like:
How much should I spend to acquire a customer?
How much should I invest to retain or win back my customers?
How much time should my sales team spend on customer acquisition?
Are my offers well-suited for my best customers?
Customer Data Platform vs. Data Management Platform
Learn over 25 key differences between Customer Data and Data Management platforms and decide which of them will be a better fit for your business
Download FREE Comparison
How to calculate CLV
You now know that you need to include CLV in your marketing arsenal to help your organization grow. Now it's time to learn the formula for customer lifetime value calculations. There are a number of ways to do it, and your choice depends on the resources you have. The key is to select one and stick to it. We'll present you the simplest and most traditional one. To measure CLV, you need to take into account things like:
Customer lifespan
Retention rate
Customer churn rate
Average profit margins (per customer)
Also, we can differentiate between historic and predictive CLV.
Historic CLV
What is historic CLV? Basically, it's the sum of all the gross profit from a customer's past purchases. To calculate it you need to add up all the gross profit values up to the last transaction (N) a customer made. If you measure CLV on the basis of net profit, you get the true profit a given client generates.
This involves costs of service, return, marketing, acquisition, and so on. The drawback is that you might have to do some complicated math at the individual level to get the most up-to-date data. Still, gross margin CLV gives you a thorough understanding of your customers' profitability to date.

Where: AGM = Average Gross Margin
In principle, this method is valid if customers share the same preferences and interact in the same way with your brand over roughly the same period of time. What you also need to remember is that calculating historic CLV means putting all your customers, old and new, into the same basket. That might be tricky, because they can vary when it comes to behavior and preferences. Differences between clients can affect CLV.
Predictive CLV
So what's behind the concept of the predictive CLV? First, its aim is to model the transactional behaviors of your customers to predict what actions they will take in the future. This method is a great indicator of customer lifetime value, better than historic CLV.
It works using algorithms that try to generate precise CLV while predicting a customer's total value. Predictive CLV is fueled by a history of past transactions and the customer's actions to better forecast the value a particular customer can generate.
Again, there's no single perfect customer lifetime value formula and there are numerous ways to calculate it. We'll focus here on a simpler one to spare you some trouble.
First, the formula:

Where:
T = Average monthly transactions
AOV = Average order value
ALT = Average customer lifespan (in months)
AGM = Average gross margin
However, keep in mind that this approach does have a flaw: it's a prediction that won't always be 100% accurate. To improve accuracy, you should adjust CLV calculations to the specific industry you operate in. Precision in your CLV gives you a tool for developing sound and effective marketing strategies.
Traditional CLV
In some circumstances it's better to rely on the more traditional but in-depth CLV formula. This might be the case when your yearly sales are not flat. Then you can take into account the discount rate, as well as including average gross margin per customer lifespan and retention rate.
The final formula will look like this:

Where:
GML = gross margin per customer lifespan
R = monthly retention rate
D = monthly discount rate
This particular computation looks at possible changes in customer revenue throughout a period of time. Next, each year is corrected by a discount rate to account for inflation.
How to apply CLV
Once you CLV calculation is done, you can use this information to chisel your strategies. Here are a few important cases where you can apply them.
Segment your customers effectively: With the application of CLV models you can significantly improve both profiling and segmentation. That will help you provide more customized offers and target customers based on their potential value. Segmentation enhances forecasting and lead conversion rates. Additionally, you can increase the effectiveness of your segments with data collected with technologies like CDP or DMP and analytics.
Lift retention: Customer lifetime value is your compass for navigating strategies to keep your customers loyal to your brand. It also helps you set priorities, such as which customers to win back, and devise a unique strategy for that.
Increase loyalty: You can use CLV as a tool for improving your operational capacities and boosting customer satisfaction. The more you know about your customers and their needs, the better offers you can provide. This helps to keep your customers in a relationship with your brand for longer. For instance, when it comes to e-commerce, you can promote special offers or some flash sales. A deeper understanding of your customers lets you craft and adjust your loyalty programs for improved effectiveness.
Improve forecasting: Calculating customer lifetime value allows you to predict the future need for your product or service. This way you're able to manage your investment whether it comes to workforce, inventory, or other resources. Detailed forecasting is vital for reducing productivity losses as it lets you allocate resources in a more efficient manner.
Recognize best customers: Data on your customers, especially frequent purchases and transactions, lets you spot those who spend the most. Taking advantage of this information lets you promote certain products more. Also, you can invite your customers to special events and offer deals specially tailored for high-value customers. Finally, you can take better care of your most valuable customers by providing them with an individual assistant or adviser.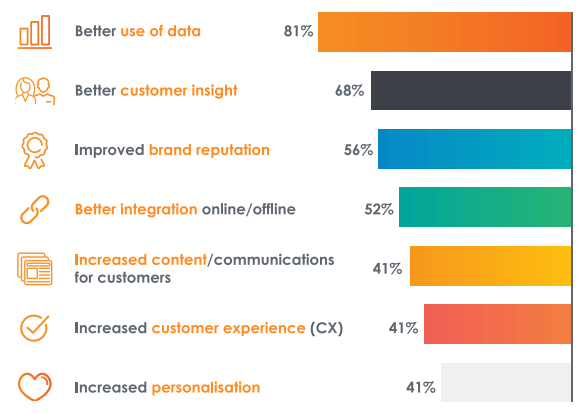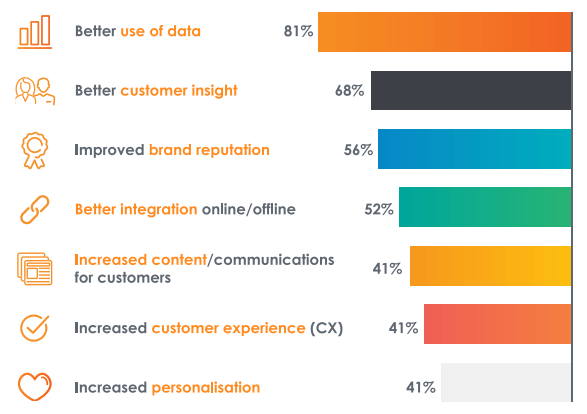 What increases CLV in business, according to a survey by Criteo (source).
How to improve customer lifetime value using a CDP or DMP
We've already talked about the importance of CLV for your marketing strategy. But what you need to make it sparkle is the right data. You can devise the most elaborate tactics, but making them work requires the right information about your customers.
This is where data gathering platforms come into play. Whether it's a customer data platform or data management platform, you can obtain an abundance data on your customers. The better you know them, their preferences, and their propensities, the more tailored an offer you can provide.
For instance, with a CDP you can boost the value of users' interactions with your brand. It lets you precisely segment your customers, ranging from one-time shoppers and site visitors, to loyal customers that make frequent purchases. Segmentation takes into account things like demographics, device usage, transaction history, and so on. With well-rounded data you can customize your messages, offers, and services to better resonate with your customers' needs.
Free Comparison of 4 Enterprise-Ready Customer Data Platforms
Get to know 25 key differences between Tealium, Ensighten, BlueVenn and Piwik PRO to find out which platform fits your business's needs
Download FREE Comparison
CDPs offer a myriad of possibilities, but a key one is that they make data actionable. So it's not only about reports and collecting data. The platform helps you improve content personalization and recommendations, activate audiences, and finally refine up-sale and cross-sale initiatives. A carefully personalized user experience significantly boosts revenue and CLV.
On the other hand, at your disposal are DMPs, your ally in customer-centric digital marketing. This tool significantly helps you optimize your campaigns. Propelled by third-party data, a DMP allows you to perform look-alike modelling and extend your audiences with similar users. This lets you increase the reach of your campaigns.
What's more, with a DMP and its analytics capabilities you can get a closer look at your campaigns' efficiency. The precise insights you receive help you improve your tactics, perform more efficiently, and provide customers with better, more tailored offers. This applies both to acquiring new customers and making existing ones happy. As we already know, satisfied shoppers and visitors add more to customer lifetime value.
If you want to find some more details on CDP, have a look at our posts:
Customer Lifetime Value – final thoughts
Customer lifetime value is not the only metric you need to follow in the pursuit of growing your business. But it's definitely the most critical of them. Fueled by the technological advancements of analytics and a customer data platform, it delivers all the information you need to provide engaging customer experiences. What's more, CLV helps you cater to your customers, not only before conversions but after them as well.
Lastly, it provides you with feedback from customers so you can improve your product. All in all, it can become your guiding light for devising powerful marketing campaigns and other tactics.
We know that the idea behind CLV is complex. In this post we've covered only the essentials, so you might still have some questions. Reach out to our Piwik PRO team and we'll answer them on the spot.