If modern marketing was a car, data would be its fuel. Data helps marketers form and adjust their strategy, drive their decisions and evaluate the effectiveness of their campaigns.
With consumers constantly generating vast amounts of data, marketers have a lot of information they can use to grasp their needs and interests.
The issue is that customers use different channels to interact with companies. They move between devices and touchpoints, completing various tasks and falling under different departments – marketing, customer service, product teams, and more.
All the data that customers generate can be difficult to make sense of when it's scattered across platforms, with limited options for analysis by different teams.
The solution?
Creating a single customer view (SCV) that aggregates user information from various sources, encompassing actions they took and touchpoints they arrived at.
From today's article, you will learn what single customer views are and how you can build them, as well as how you can use them to personalize user experience and make informed marketing decisions.
What is a single customer view (SCV)?
A single customer view (also called a 360, 360-degree, or unified customer view) is a method for gathering all the data about each of your prospects and clients, then merging it into a single record.
Typically, you can create a single customer view as a profile page in a customer data platform (CDP). The CDP can be used to standardize and centralize all user information and make it available across teams without the involvement of devs or analysts.
By consolidating all information about your users in one centralized location, you get a powerful overview of every action they've performed on your website (using desktop or mobile devices), in your mobile app, and even in your offline store.
Above all, a unified customer view helps you forge better customer relationships by providing consistent interactions across touchpoints and departments.
Types of data collected in a single customer view
An SCV is created by merging various pieces of information about your users from many sources, often scattered throughout the tools used by different departments – not just marketing but also sales, product design, and more.
The information you collect depends on the channels and tools you use and the available infrastructure and expertise.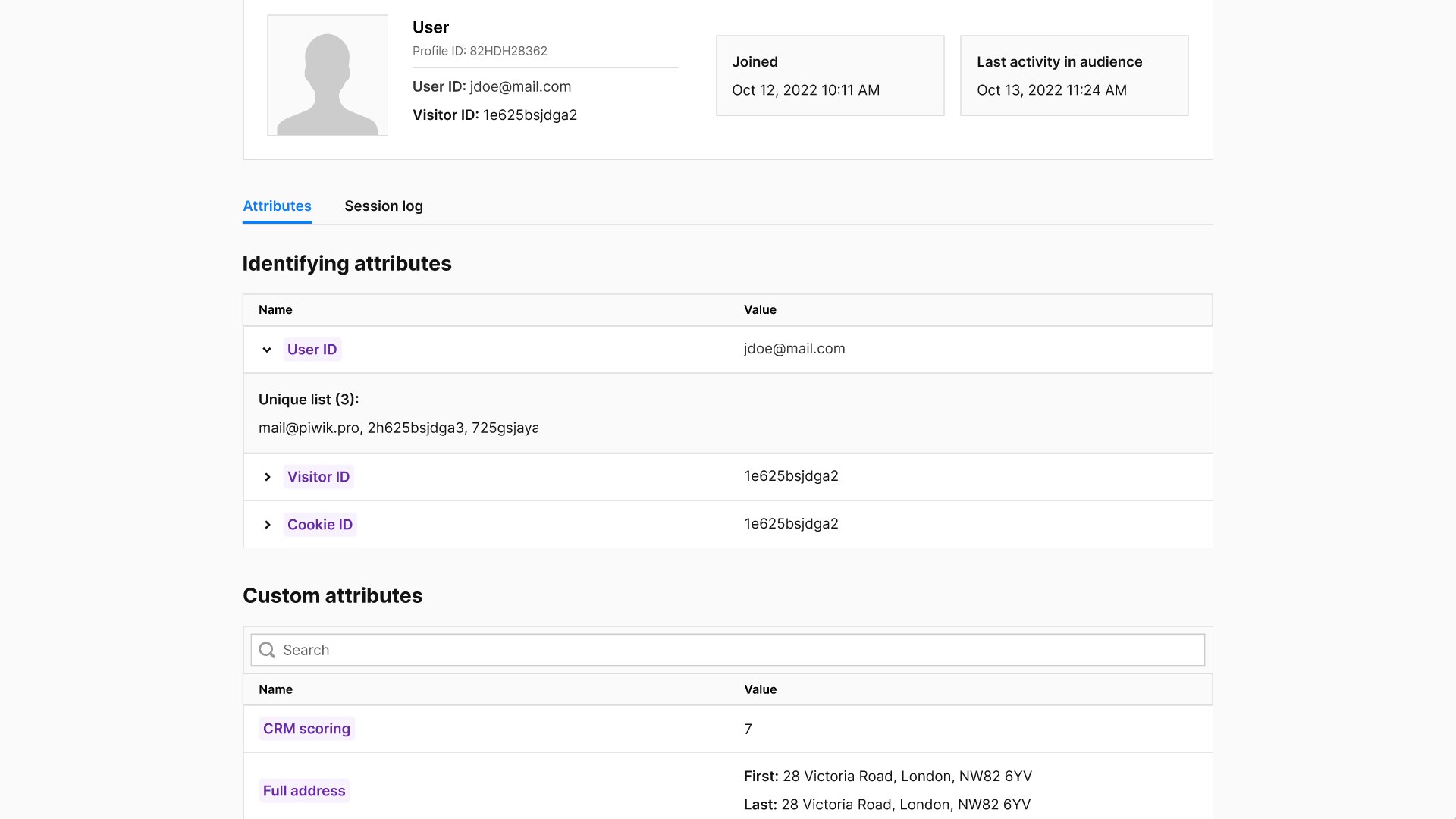 Data used to create a single customer view may include the following:
Website & mobile app activity and behavioral data – This could include clicks, scrolls, hovers, pages visited, time spent on page, form submissions and other interactions with your website, mobile app or server gathered by an analytics tool. Other examples are information on the categories, products and blog posts browsed by the user, products added to basket or abandoned, etc.
CRM and offline data – This will often include personal details and contact information like postal address, phone number, email address, social network accounts, etc.
Demographics – Such as age, race, ethnicity, gender, marital status, income, education, and employment.
Transactional systems and purchase history – For example, data about the number of products purchased (both online and offline), order/subscription value, order/renewal dates, product abandonment, returns, cancellations, etc.
Customer support interactions – A customer's contact with your support team, be it via support tickets, emails, phone calls, etc.
Sales team interactions – Details on pre-sales follow-ups and contact your sales reps make with prospects and customers.
Consent preferences – Records of consent for data processing provided by your users. Under regulations such as GDPR, users can give consent to selected data collection purposes and reject the ones they don't agree to, be it personalization, remarketing, or A/B testing.
Marketing tools – Users' interactions with your social platforms, SEO tools, ad platforms, email marketing communication, marketing automation platforms, and others.
As you might have noticed, an SCV is composed of first-party data – the information that a brand or company collects directly from its customers.
First-party data gives you control over the data and provides transparency on how it was acquired. It's also far more accurate and relevant for the specificity of a given company and its operations, and in this realm, takes precedence over second- and third-party data.
This makes SCVs an even more powerful and valuable tool for getting in-depth insights into each of your customers.
How you can use a single customer view in digital marketing
Data contained in unified profiles can be used in many ways depending on your organizational needs and the marketing channels you're using.
The data you have access to can answer many important questions, such as:
What are your users' preferences and interests?
What products or services have they purchased, shown interest in or abandoned?
Which stage of the buyer's journey are your users at?
How have users interacted with your company and what touchpoints have they gone through?
A 360-customer view offers marketers a wide range of possibilities and insights, but at the heart of the SCV is personalization.
Thanks to data gathered from people's browsing behavior and merged with user profile information, you'll be able to display products or content that truly resonate with visitors.
In particular, you will be able to benefit from unified customer profiles in:
Cross-sell and upsell campaigns
Facebook and Google Ads campaigns
Email and social media campaigns
Loyalty programs (promotions, discounts)
Service or product advice
Customer support and sales communication
Customized product recommendations
Cart abandonment reminders
Personalized onboarding
And the list could go on. It's just a matter of your creativity and available resources.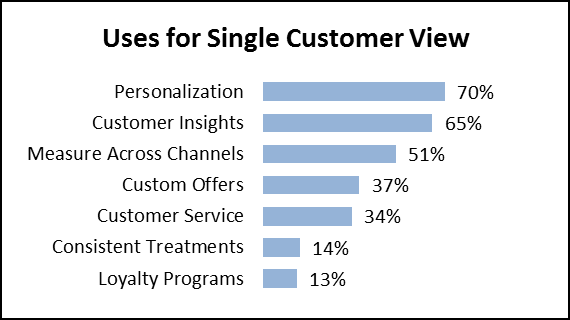 What are the benefits of applying a single customer view?
By now, we've gone through what an SCV is and which types of data it consists of, but how exactly can it help your business?
Here's a summary of the most important benefits of incorporating an SCV into your marketing strategy:
Ability to store customer data in one place and make it easily accessible for different departments
Creating a 360-degree user view lets you store all user information in one location, allowing you to see all their characteristics at one glance.
A unified customer view solves the problem of siloed or duplicate data – a side effect of organizations adding new channels and software that hold information separately without proper integration.
A data silo is a collection of data controlled by one department or team and isolated from the rest of the organization.
If data is isolated and only accessible to one department, it's difficult to share user information between teams and use it to improve the customer experience. And it also leads to a lot of duplicate data in the system.
With a unified customer view, everyone in your company knows where to find and store customer data. When, for example, someone in a meeting needs information on a customer to make a point or a decision, they can do so quickly and trust that the data they're looking at is correct and up to date.
It also unifies disparate data sources and identities, and combines them into a comprehensive customer overview that a wide range of departments can utilize in their work and the tools they use.
For instance, a user can submit a few contact forms with different phone numbers but the same email address – you can connect all the received forms and establish that they belong to the same person.
This is how SCVs can help you avoid the inefficiencies that come with diffuse data sources. Every department at your organization will have access to the same scope of accurate information about users and be able to use it for their respective purposes.
How to connect data dots with marketing technology
Most marketers work with numerous marketing systems which, when combined, form so-called "marketing stacks". Integrating them to achieve a unified customer view is challenging and involves a deep understanding of the nature of these connections.
Experts from the Customer Data Platform Institute discuss different ways to bring them together:
Directly connecting different marketing systems to each other. This could take a lot of work from a technical point of view, depending on the particular systems involved. Such an approach may not be the best solution, as it requires too many connections to be established between individual systems.

Having only five systems would require making ten point-to-point connections. But what if you had 20 or 30 systems? In reality, organizations can integrate just a few critical systems, while the remaining ones are partially integrated or completely ignored.

Linking marketing systems to a shared central database. This approach means building a master database that can aggregate data from different sources, transform it into practical formats and make it accessible to other systems.

In this case, fewer connections are needed than in the previous method, as all systems use the same data. It also means you add data to the existing system rather than create a new one. This is where a customer data platform (CDP) comes in handy.

Not integrating any system. That's the method that 29% of companies apply, since it's probably the easiest approach. The problem is that this way won't provide you with an SCV at all.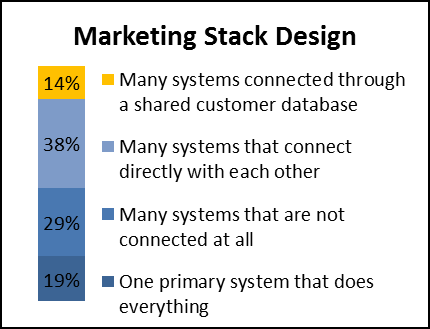 Access to multi-channel and multi-device marketing data
Given the vast volumes of data you can access today, gathering and adequately connecting data points from different channels becomes difficult.
When analyzing your marketing data, you need to answer the following questions:
What is the effect of your marketing activities on conversion rates?
Which devices most often lead to conversions?
Which channels contribute to the most conversions?
How should you allocate your marketing and advertising budget to make it efficient and maximize your conversion rate?
How can you decrease the acquisition cost per marketing channel?
Finding answers to these questions might take time and effort.
Users can jump from smartphone to desktop to tablet and back again as they visit your website, or use different browsers for their visits, which can make marketing attribution a real headache.
Also, one user can move through touchpoints on different online channels – for example, click on your Google Ad, visit your site directly and then navigate to it from organic search.
This is where single customer views come in handy. With SCVs, you can take advantage of models that help you assign the right amount of credits to each channel – like multi-device and multi-channel attribution. You'll be able to stop using old and ineffective conversion attribution models relying on the last or first clicks.
SCVs can help you recreate a user's whole journey with your brand and all their touchpoints, regardless of how many devices or channels people have used to contact you. With this information, you will be able to better plan and adjust your marketing strategy and accurately evaluate its results.
Understanding customers through finer segmentation and analytics
Detailed information about your app or website visitors equals more information available when crafting audience segments. Unlike aggregated data that misleadingly implies that all visitors are equal, segmented data reflects how different they really are. People use various devices and browsers, have many demographic characteristics, and face different issues using your site or app.
Precise data can let you segment your users based on relevant attributes and behaviors, which provides better insights.
With access to an SCV, you can segment users based on their:
Buyers' lifecycle stages
Specific locations
Profession or role at their company
Purchase history
Interests
Visiting patterns
Content viewed
Industry
Contact preferences
Conversion data
User type or persona
Time and date of activity
With strategically crafted segments, you can tailor your marketing messages more accurately to your visitors' needs. You can then increase user satisfaction with your brand, lower marketing costs and have more opportunities for creating value, driving sales and building loyalty.
Being able to make more informed, data-driven marketing decisions
With a more holistic overview of your consumers' behavior, you'll stop making marketing decisions based on pure assumptions. Forget about hit-and-miss marketing campaigns.
Single customer views can improve campaign performance by letting you see which of your marketing efforts are most effective and what type of communication gets the best response, as well as identify your most valuable customers.
You have an opportunity to analyze each user's behavior in a more granular way and plan your next move based on that. Through that, you can better adjust cross-sell and upsell recommendations, increase customer retention and optimize ad spend.
Your team will be able to reach customers at relevant points in the buying process rather than dragging out marketing campaigns due to a poor understanding of each segment's customer journey.
All this data can inform aspects of your marketing strategy – who your personas are, what activities you choose to target them with and what unique value your brand proposes that speaks to your customers.
Providing better personalization and targeting
With full-view user data, you can use a single customer view to improve your personalization efforts.
As a report by McKinsey shows, 71% of customers expect personalized communications and products or services tailored to their needs from the companies they purchase from.
And the results of meeting customers' needs are tangible, as 80% of companies report seeing an uplift after implementing personalization in their strategy.
When working with inaccurate or incomplete data, it's easier to make mistakes. For example, you might send multiple copies of the same content to one user, or waste your marketing budget on advertising a product to users who have already bought it.
Full-dimensional customer profiles with visitors' habits, demographics, clicking behavior, purchasing history and lifestyle preferences give you a deeper understanding of their needs, habits, and intentions than if you were only analyzing one type of data.
You can combine data previously accessible only to specific departments to create more sophisticated segments for granular targeting. Then, you'll be able to develop better-tailored communications and offerings across the digital landscape.
With your buyers' location and purchase history, you can send customized messages with information about events happening in the area or hosted by the store where they tend to shop.
By viewing your customers' interactions with your emails or social media profiles, you can target valuable buyers who have been less active in your marketing channels with a special campaign or promotion.
If you provide the right message at the right time at every stage in the customer journey, customers will be more likely to purchase your products or sign up for the services you offer. This can lead to higher loyalty and increased lifetime value (LTV).
Delivering individual user experiences will set you apart from the competition, drive growth, and improve your brand's positioning as a leader in your industry.
Cultivating customer lifecycle marketing
You can influence your customer lifecycle marketing with detailed knowledge of your users' behavior throughout the entire user journey.
Customer lifecycle marketing (CLM) consists of strategies an organization can apply to impact customer behavior throughout every stage of the marketing cycle, from reaching the user, through acquisition, conversion and retention until they get to brand loyalty.
A customer lifecycle marketing strategy will depend on the complexity of your customer journey and the number of touchpoints and channels at each stage.
To positively impact customers in their journey, you can use different sources of information about them – such as demographic, transactional and behavioral data, all of which can be stored in a single customer view. The data can be used to develop tailored campaigns based on the stages of their journey and detailed customer segment information.
Customer lifecycle marketing also heavily relies on personalization. Under a CLM strategy, you can divide your clients into the following groups:
Prospects – showed some interest but have not purchased
Active customers – customers who have purchased
Inactive customers – customers who have purchased but not recently and are at risk of churn
Lapsed customers – customers who have purchased but not for a long time
Your goal is to transform all the prospects, inactive and lapsed customers, into active buyers of your products and services.
Fortunately, with the data provided by SCV, you can easily detect individuals that fall into those three categories. Then you can prepare marketing campaigns that will help you win back their interest and loyalty.
Single customer view – use case example
Imagine you want to identify your lapsed customers who used to be active buyers of your products or services.
The first thing you do is to use the data coming from unified views of users. You identify the right user group by creating segments based on:
Time since last order
Previous purchase frequency
Purchase value
That way, you can spot users who used to purchase from you frequently and spent significant amounts. But, for some reason, they've stopped doing so.
With that knowledge in your hands, you can serve them a dedicated email campaign with an attractive promotional code to shift their attention to your brand again.
Easier to stay privacy-compliant
In modern marketing, you must ensure your company collects and stores customer data in a privacy-compliant way to adhere to privacy laws like the GDPR or CCPA, which tend to be quite strict.
The GDPR requires companies that fall under it to:
Correct inaccurate records they may have shared with third parties
Respect consumer rights to access the information they hold about the customers
Have a legal basis for processing personal data
Acquire valid consent to collect, retain and use personal data
Have procedures in place for detecting, reporting and investigating a personal data breach
Information on all the above aspects needs to be recorded and stored, so it can be easily accessed when necessary – for example, to prove compliance in the case of an audit.
That's where a unified customer view becomes valuable again. Having an SCV that contains cleansed, legal and accurate information is a significant step towards being complicit and mitigating some of the risks of breaching these regulations.
CSVs will also help you resolve consent decisions and preferences at an individual level. This way, you will get a clear picture of the purposes for which you can process each user's data.
Consider pairing your analytics stack with a consent management system to simplify and streamline the process of collecting users' consent.
How to create a 360-degree customer view
As we've mentioned above, creating a unified customer view is a complex process that involves merging data dispersed across digital sources and getting rid of so-called data silos.
From a practical point of view, you need to focus on the following aspects:
#1 Have a sound strategy in place
It takes a lot of effort and planning to create a 360-degree customer view. With a thorough strategy, you can define the scope and purpose of your SCV project. First, you need to know what you want to achieve with it and how it will help your organization.
It also involves engaging different company departments, getting ready to introduce business-wide changes, and managing different resources, such as the budget, assets and external suppliers.
Then you need to identify and prioritize data sources that you will use to feed into the single customer views and choose the right technological solutions to help you collect, merge and analyze data and put it to further use.
#2 Merge user data from different sources
With all data sources in place, whether it's your CRM, email platform, marketing automation platform, or transactional system, and after you determine the types of data you will feed into your SCVs, you need to merge the data bits into single records.
The most efficient way would be to employ a CDP that lets you consolidate every data point about your users and provides you with a complete overview of their actions.
#3 Resolve customer identities
Identity resolution is the process of creating an addressable customer profile by analyzing and resolving data across multiple touchpoints, attributes and systems. It is typically done by a software system like a CDP and entails comparing and matching identifiers like email addresses, login data, device ID, cookie ID, phone numbers, etc.
The stitching process uses algorithms and statistical analysis to create a persistent customer identifier that can be used across systems and campaigns. This customer identifier is then used to further enrich a customer profile as more data becomes available.
Identity resolution is a deterministic matching method ensuring 80-90% accuracy, which lets you identify and match users across extensive data sets.
Customer identity matching helps you reconcile anonymous or ambiguous data. You get to bring together the separate pieces of data collected on an individual customer by recognizing that they refer to the same visitor.
With such a degree of accuracy of profile matching, you can build a rich and expandable database of people profiles that you can further enrich along the whole user journey users take with your brand.
What to do after creating an SCV
First, you need to ensure every relevant team in your organization has access to the assembled single customer views. Different departments can analyze the SCVs on multiple levels to determine industry trends, marketing successes and failures, customer engagement, how they should readjust their efforts, and what requires more focus. All these acquired insights can be shared among teams.
Then, it's time to act. Insights from the analysis of organized and unified customer data can be used to hone your marketing and sales efforts and develop loyal customers. Clean and updated single customer views can help exclude existing customers from the costly top-of-the-funnel initiatives that would be irrelevant to them. Insights about customer engagement can guide future marketing plans and product development.
Issues with building a single customer view
According to new research from Experian, 81% of marketers say they have trouble achieving a 360-degree user view.
Some barriers are easier to cross, especially when management realizes that the results are worth the effort. That's the case with money or corporate politics. Others might take more time and effort.
Poor data quality
The quality of data for your marketing initiatives is critical. To create an SCV, everyone – from marketers to customer experience specialists – must ensure that your organization has reliable and accurate information on clients.
Part of this process involves keeping your data up to date, as it might become outdated. That's why monitoring your database regularly and, most importantly, validating your data sources is crucial.
Disconnected data
Meanwhile, over half of the marketers from enterprise brands state that the main obstacle to creating a cross-channel marketing strategy is linking data to develop an SCV. This results from the lack of proper technology to facilitate the process.
Fortunately, you can employ a CDP to create and maintain complete customer records. These platforms help you aggregate user details from multiple sources, create detailed segments, and effectively apply data in your content personalization, remarketing campaigns and other marketing endeavors.
There are different options available on the market – check out our comparison of the most popular Customer Data Platforms.
Legacy systems
Despite having a wealth of data at their fingertips, many organizations need help using it because they still rely on legacy systems. That's the biggest obstacle to data integration, alongside insufficient data quality and standardization.
And when it comes to building an SCV, data integration is of paramount importance. Marketers must face the challenge of data scattered across channels and stuck in outdated systems.
Also, there's a good chance your historical data doesn't fit in the new system format or isn't accessible in new systems, and may be stored only in a data warehouse.
Moreover, legacy systems can contain terminology or procedures that are not relevant anymore and can hamper the understanding of current methods.
Next steps
As you can see, a 360-degree customer view is a very effective way to manage user information. And if you're interested in creating unified customer profiles at your organization, there is no better tool than our upcoming CDP.
With a CDP, you get to collect all siloed data into one customer record, segment users based on certain conditions, deliver personalized customer experiences across different channels, and enrich your records in other tools.
Related posts:
But we know that the topic of single customer views and CDPs can give rise to many questions.
Our experts will be happy to share their knowledge about using SCVs to boost sales and consumer loyalty.
They will also answer any questions about the CDP we're developing and explain how you can use it to integrate and activate customer data.