The age of customer empowerment has arrived. Today's well-informed customers know what they're looking for and information asymmetry is a thing of the past. Today, when it's so easy for consumers to easily compare hundreds of offers in the blink of an eye, simply providing a great product or service is no longer enough.
Companies are leaning into customer-centricity, placing value in social proof, reviews, net promoter score and customer service. These are the factors which differentiate competitors today. A few good reviews or word-of-mouth recommendations go further than any assurance you can provide.
Happy customers become repeat customers. They spread the word about the great experiences they've had with your company. The chart below shows the direct relation between customer experience and increased sales. So how can you improve CX across multiple channels?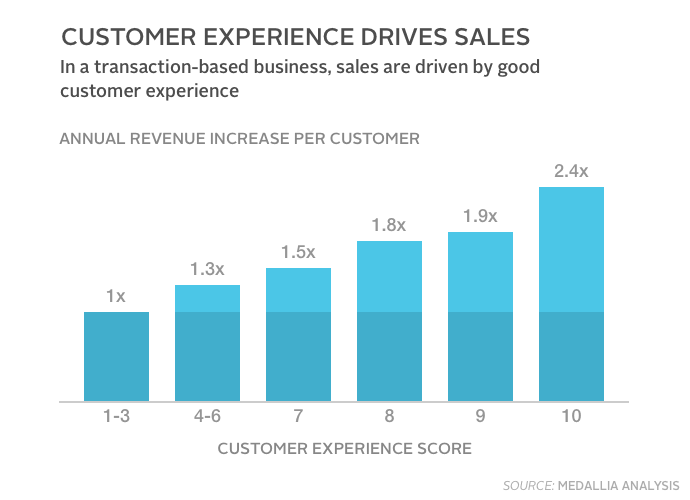 If you're looking for a way to distinguish your customer experience, Customer Journey Analytics (CJA) may be the perfect solution.
Journey analytics is a powerful solution for monitoring and optimizing CX that delivers a detailed, data-backed view of how customers interact with companies. The granularity and insight CJA provides are superior to preexisting stand-alone CX tools.
Let's take a closer look at the benefits of using Customer Journey Analytics, and how it works together with existing customer journey maps.
What is Customer Journey Analytics and how does it work?
Customer Journey Analytics works with existing tools like customer journey maps, web analytics and CRM to get into the customer's shoes. Integration of multiple data sources creates a detailed perspective of how customers interact with companies via different touch points and channels, and shows how all these actions relate to each other. CJA fills in the data gaps between CX tools, taking the guesswork out of CX optimization.
So where do you start with Customer Journey Analytics? Take your existing customer journey map and dig deeper. Break your map down into segments that correspond with different phases of the customer journey, like awareness, interest, engagement, purchase and retention.
Next, it's time to break each part of your journey down even further. Identify the key KPIs you're going to track within each section. Think of it like a checklist of what customers can accomplish in a given part of their journey. Check out the picture below to see how KPIs can align with different journey phases.
Trackable KPIs are the little touchpoints that make CJA possible. How much work you put in now decides how much actionable data your CJA solution will generate – the more detailed the better.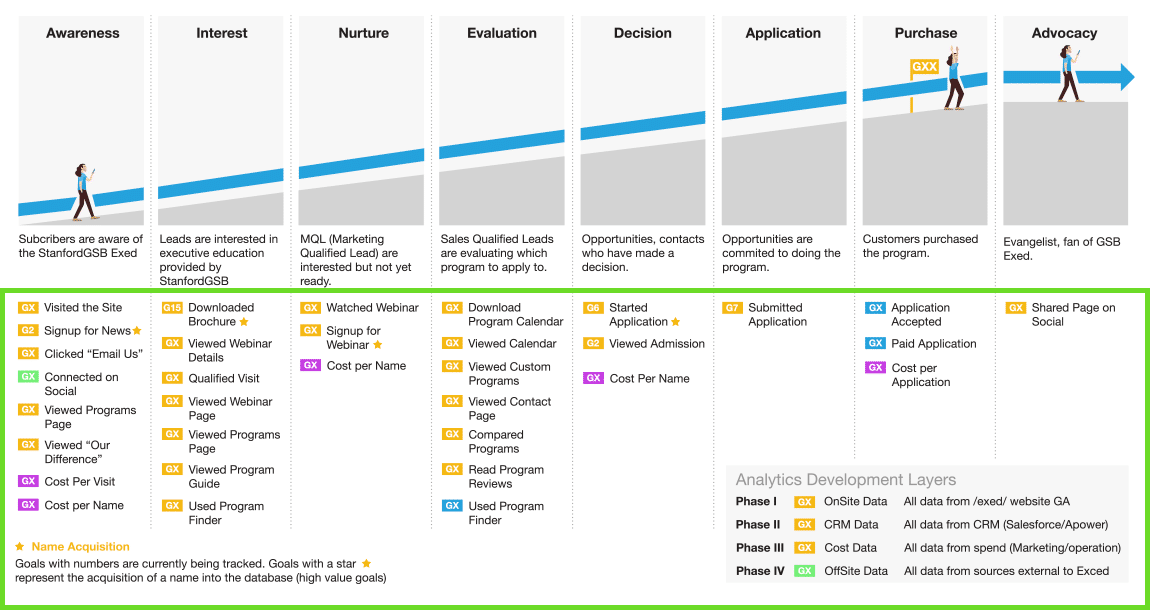 Just these two steps, breaking down your journey and assigning KPIs, will provide you with valuable and accurate feedback for your current customer journeys. We'll discuss more benefits of journey analytics later on.
Using data collected from web analytics, CRM, customer data platform etc. you can build profiles and track individual customers, placing them in the journey map based on their real actions, no matter what device and channel used.
TIP: CJA is very versatile. On-boarding processes, app or product engagement and customer journeys are just a few examples of where you can implement journey analytics.
Free comparison of 4 leading customer journey analytics platforms
Compare 21 features of Woopra, Adobe Marketing Cloud, Google Analytics and Piwik PRO to find the best match for your business
How is Customer Journey Analytics Different from Customer Journey Mapping?
Before explaining the differences between CJA and CJM, we should point out that these two solutions are complementary, practically interdependent.
Maps help you plan and visualize the optimal user experience, while journey analytics gives you real data that allows you to confirm customer movements while analyzing and improving CX.
While Customer Journey Mapping is helpful in strategizing how to create and streamline great CX, it's mostly static. After creating the map, you try your best to confirm its actual usefulness with the limited information you have available.
CJA, on the other hand, is a dynamic process. Data is constantly being gathered, updated, organized and applied to show you the exact how/what/why/when of customer interactions.
Take a look at the two photos below. The first is an example of a customer journey map. It has a good level of detail and strategic value, but falls short in providing actual interactions of real customers. In general, it shows the "planned" actions of a customer.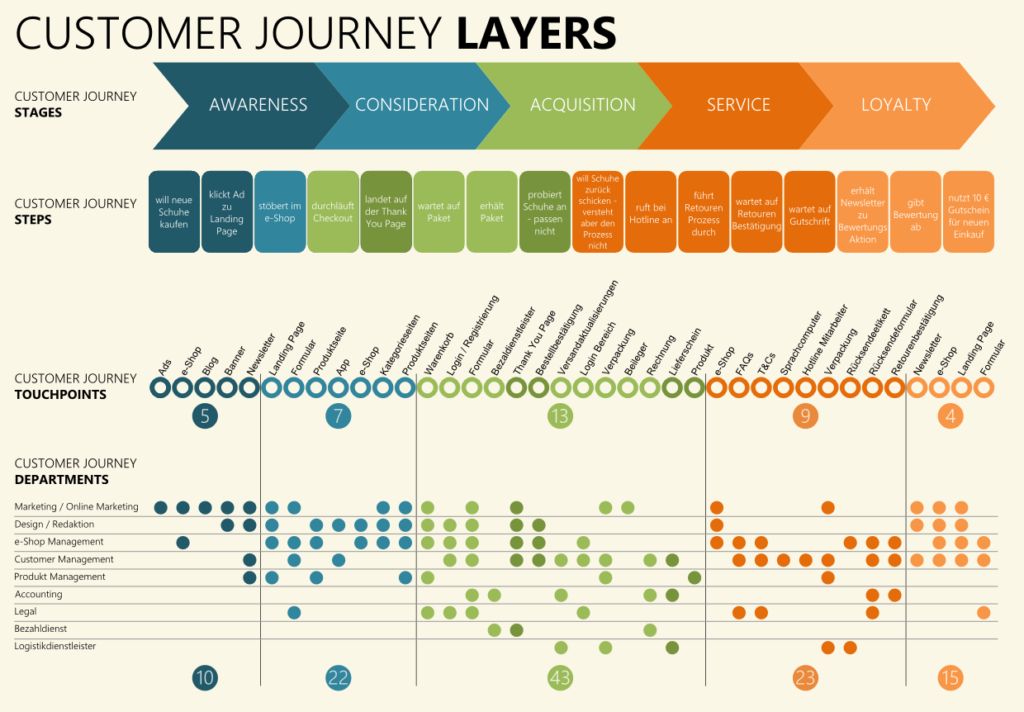 In the second and third photo you can see a high-altitude Customer Journey Analytics report displaying how customers start and finish their journeys with national banks. A great CJA report lets you drill down further to view individual KPIs and touchpoints between the beginning and end of these journeys.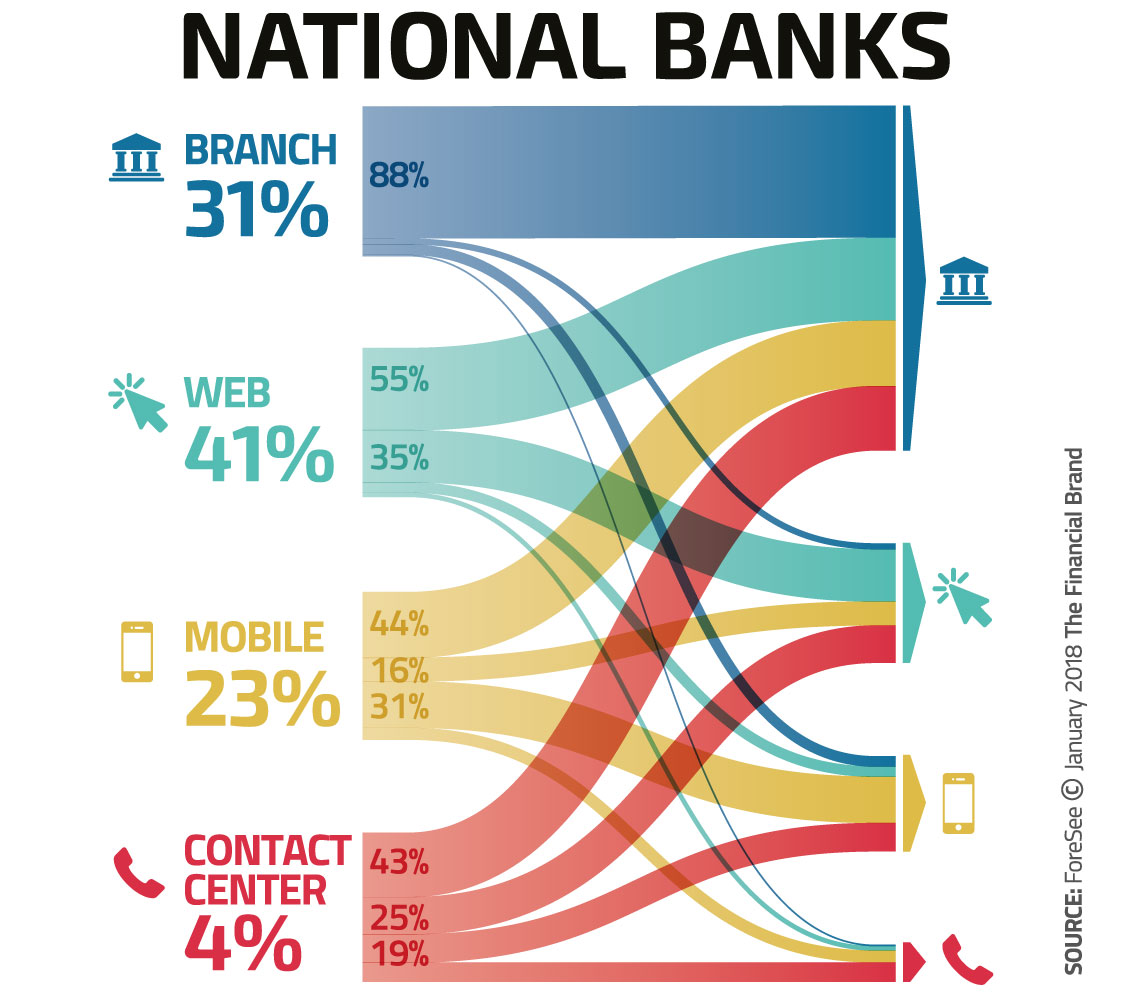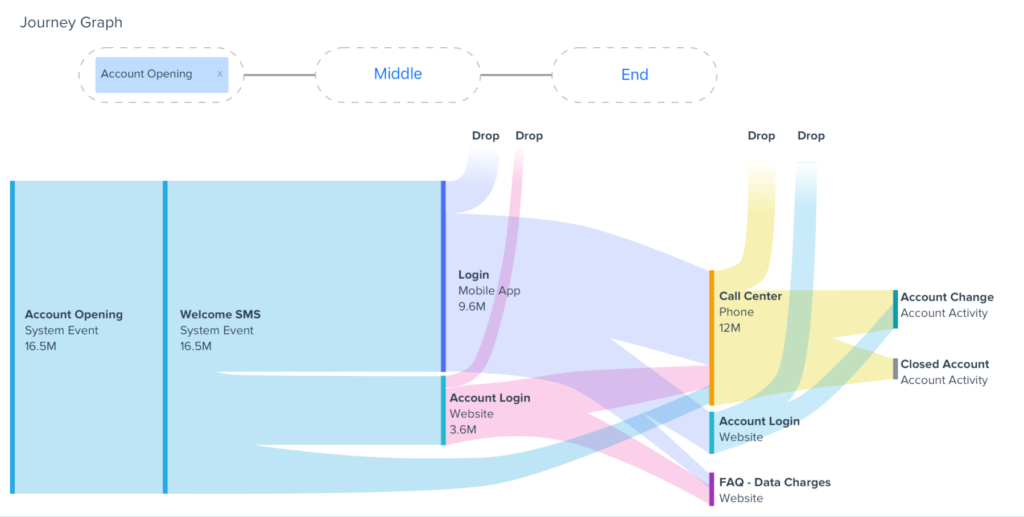 You can monitor customer experience KPIs without a journey map, but analysis and visualization of the end-to-end journey will be much harder without a map to overlay data on.
Questionnaires are often used to fill information gaps when analyzing existing customer journey maps. The problem with surveys is their lack of detail and accuracy. They are usually applied post-purchase, and customers don't remember every touchpoint they interacted with. Sometimes discovery to purchase can take months. It's a battle between getting detailed feedback and keeping surveys short enough for customers to bother completing them.
If you're looking for detailed information like:
Created user profile April 08
Abandoned shopping cart April 08
Clicked on CTA from re-engagement campaign May 05
Made first purchase May 05
… you won't get it from surveys – this is where CJA comes into play.
CJA is data focused and data driven. It uses hard analytics data to track, measure and organize customer interactions on every level and channel. Accuracy and detail are the main features distinguishing CJA from CJM.
Benefits of Customer Journey Analytics
The main benefit of any form of analytics are the insights you get from processing and analyzing data.
Examples of such insights using CJA are:
Which channels work best for customer engagement and lead to sales
Which customer paths result in churn
What's the best moment to engage customers in their journey
What paths do different audiences tend to take
CJA confirms assumptions you've made about the customer journey. It's time to take the guesswork out of CX and journey planning by using facts, data and statistics.
Discover new micro journeys and KPIs all along the customer path. As you get a better understanding of the journey, you'll find new customer behaviors and KPIs you've been missing out on.
Don't just monitor journey trends from high altitude, but zoom in on individual journeys and discover how people interact with your business. This includes cross-channel journeys since CJA works across multiple channels and device types.
As you start to gather data, you'll see where your journey works and where it needs work. When you find a pain point or bottleneck you can drill down and identify individual KPIs that are contributing to the problem.
Most importantly, CJA shows you every interaction a customer or prospect has had with you so far. This is extremely important for customer-facing teams where information silos significantly delay solutions and customer satisfaction.
In another post we discussed optimizing onboarding in the banking sector using analytics. This is a great example of how you can use CJA to maximize CX. In this case, banks would use analytics to track how clients were progressing with the onboarding process.
The onboarding journey was broken down into segments, and then further down into individual actions. Different score levels were assigned to actions depending on the importance of the steps.
As customers moved along their onboarding journey they accrued more and more points. It's easy to get a clear overview of where people were in the process, and a granular view of the individual interactions that got them their current score.
Having this type of information easily accessible improves customer experience KPIs (resolution rate, average time to resolution, customer satisfaction) and increases the likelihood of customer advocacy after a great customer service experience.
Which Features are Associated With Effective Customer Journey Analytics Solutions?
The two main features of Customer Journey Analytics solutions are the ability to:
Integrate with existing tools
Provide visual interpretations of data such as dashboards
The ability to easily integrate and extract data from platforms already in use is crucial. This allows historical data to be used so that the CJA process doesn't start from zero. You can build on existing infrastructures and add new data sources, capabilities and analytical models.
CJA tools should be able to produce dashboards that allow data interpretation through visualization. CJA inherently gather lots of data from multiple sources, while the ability to organize it in dashboards prevents data overload and delivers actionable insights.
Dashboards also allow you to create relevant reports with department-specific data. Read more about dashboards in our dashboards 101 post.
Analyze the Customer Journey with Piwik PRO
A great tool to use for CJA with Piwik PRO is the Customer Data Platform (CDP). By assigning unique IDs to customers and using multiple data sources (CRM, analytics, email, etc.) CDP provides detailed single customer views. This is a great way to see how individuals are interacting with you, while custom audiences let you group users together for a broader perspective on segment behaviour.
Creating custom audiences in CDP that correspond with sections and KPIs of the customer journey lets you observe how individuals and groups of customers move from one point to the next.
For example, you can create an audience for those who regularly use certain services you provide, or who read blog posts about a specific topic. Then, like we said earlier, you break these down further into KPIs to achieve granular level analytics.
The detail and number of audiences you create is unlimited when you're tracking journey actions and KPIs using analytics. Audiences can be fine-grained or general, it's up to you. The important thing is that you've strategized what you can track using analytics to get insights that become actions from your data.
The screenshot below shows a single customer view from the Customer Data Platform within Piwik PRO. Along with historical transaction info you also have profile details and visitor log information.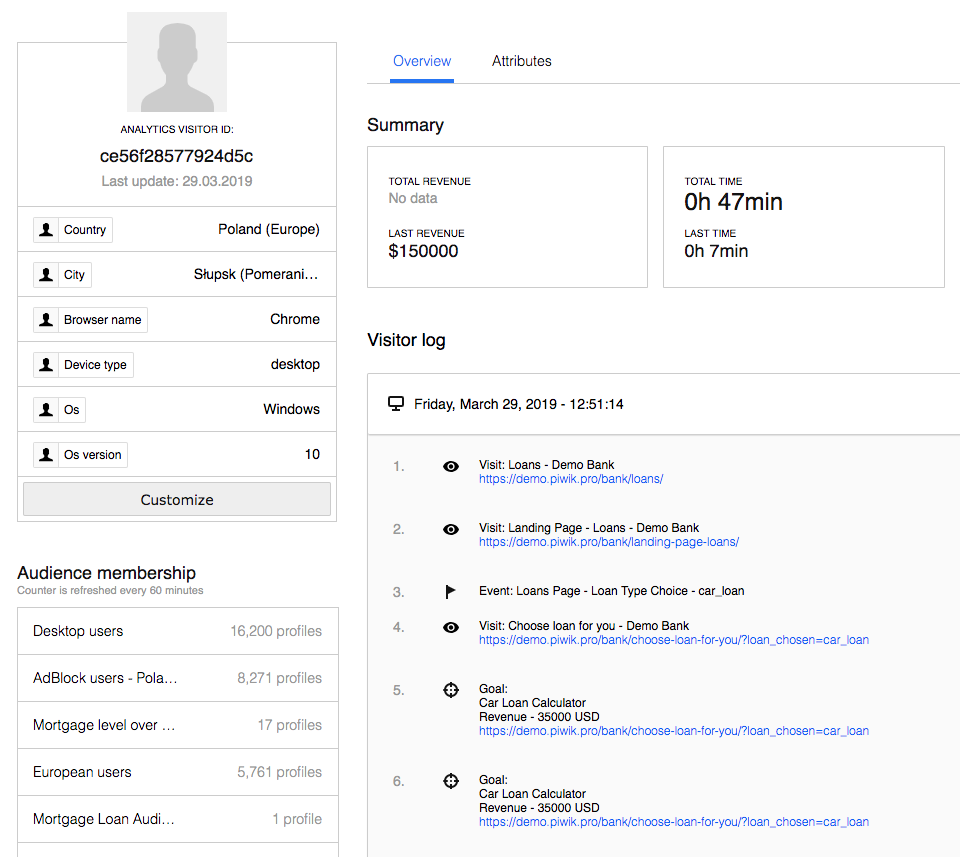 Based on the type of interactions with your company, you can assign people to specific journey segments. For example: people who have already made a purchase would be in the "customer" audience, while those who have only downloaded a white paper would be in "interest".
When have all your customer and prospect data organized and a plan for analysis, the insights start coming. You'll see what marketing efforts are working, how people really interact with you, and quickly find bottlenecks and pain points to improve in your journeys.
Free comparison of 4 leading customer journey analytics platforms
Compare 21 features of Woopra, Adobe Marketing Cloud, Google Analytics and Piwik PRO to find the best match for your business
Conclusion
Customer experience is clearly a driving factor in consumer decision-making today. As more and more tools and methodologies for boosting customer service emerge, Customer Journey Analytics remains the crucial solution with its ability to integrate data from countless sources and provide detailed, up-to-date customer journey feedback. Are you interested in implementing Customer Journey Analytics or just have some general analytics questions? Don't hesitate to reach out to us!