Choosing the right analytics platform is challenging, as no one tool meets every need.
Piwik PRO and Google Analytics 4 (GA4) provide metrics and features that can form the heart of any data strategy and deliver unique benefits. Both are good choices for experienced analytics users, allowing you to easily mold and bold your data using data warehouses or visualization tools.
Nevertheless, marketers see vast differences between the two. That's because of what's available by default in GA4 and the complexity of onboarding to the new platform. Without the rich set of default reports, you must learn how to use advanced databases or hire outside assistance. So you face a choice – to learn analytics based on redesigned tracking logic or to look for a platform based on familiar models and reports. For the latter, you'll want Piwik PRO.
This article discusses the differences between the platforms and compares their reporting features to help you decide which is better for your business.
Google recently sunsetted the previous version of Google Analytics, known as Universal Analytics or GA3. It is replaced by Google Analytics 4. All standard Universal Analytics properties stopped processing new hits on July 1, 2023. After this date, you can only view historical reports of previously processed data in Universal Analytics for one year.
What is Piwik PRO
Piwik PRO is a web and app analytics platform natively integrated with a tag manager, consent manager, and customer data platform. It helps you track, analyze, and optimize websites and apps to improve user experience and achieve your marketing and business objectives. It also handles both session- and event-based use cases. Piwik PRO supports event-based tracking but collects and processes user interactions on a session level. In Piwik PRO, you can collect a lot of data types, including events, by default.
Piwik PRO offers privacy-focused analytics, allows you to maintain control over your data, and offers options for data hosting on-premises (in your own cloud subscription) or in private cloud environments. Piwik PRO emphasizes data privacy and compliance with regulations like GDPR. Various data protection authorities, including France's CNIL and Lithuania's VDAI, have recognized its approach to data privacy.
What is Google Analytics 4?
Google Analytics 4 (GA4) is the newest version of the most widely used web analytics platform, Universal Analytics (UA), also called Google Analytics 3. It represents a new approach to data modeling. It is designed to provide businesses with an understanding of user behavior across various digital platforms, including websites, mobile apps, and other online channels. GA4 introduces several new features and enhancements compared to its predecessor. There are also fewer default data collection settings. GA4 relies on user-based tracking, focusing on user interactions and events across various digital platforms.
When it comes to data privacy, GA4 is hosted by Google, and the data is stored on US-owned and operated servers, which may raise privacy concerns for some organizations. According to some European data protection authorities, recently Sweden's IMY, using Google Analytics is incompatible with GDPR.
To learn more about Google Analytics 4, read:
Let's review the differences in reporting features.
Reports in Google Analytics 4 and Piwik PRO
Both platforms collect data from your websites and apps to create reports that provide insights into your business. You can use reports to monitor traffic, investigate data, and understand your users and their activity.
Yet there are differences in reporting features.
Getting started with GA4
When starting with Google Analytics 4, you will see a Reports snapshot report, a Realtime report, and a few predefined reports. GA4 introduces a new UI. One of the first things you'll notice about Google Analytics 4 is that the platform structure differs from its predecessor. In GA4, there are no views, and you have data streams. The data collected by default is limited and requires customization. This makes GA4 implementation far more complex.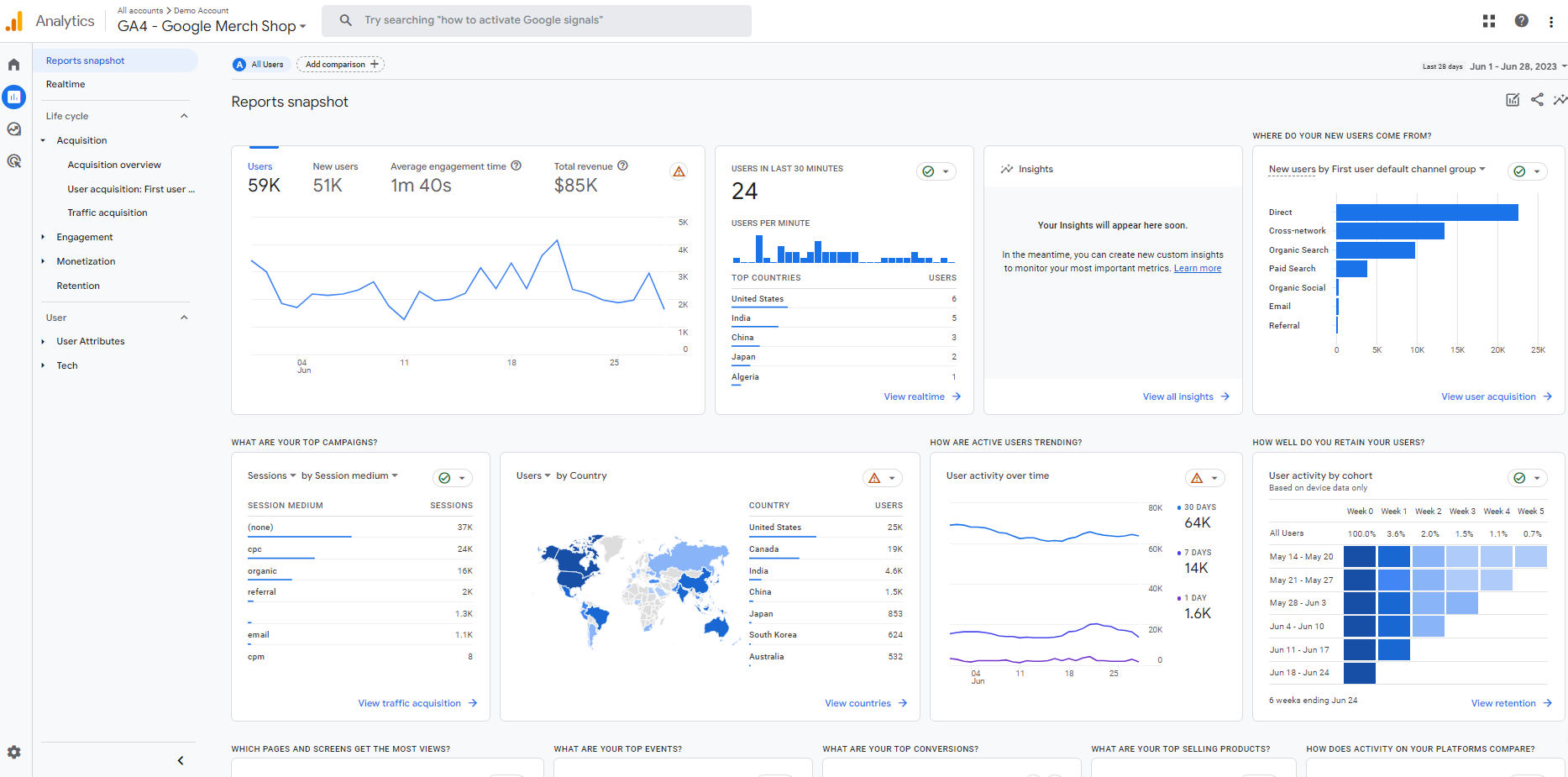 For more advanced reporting, you must create a detailed report in Explorations to investigate your data further.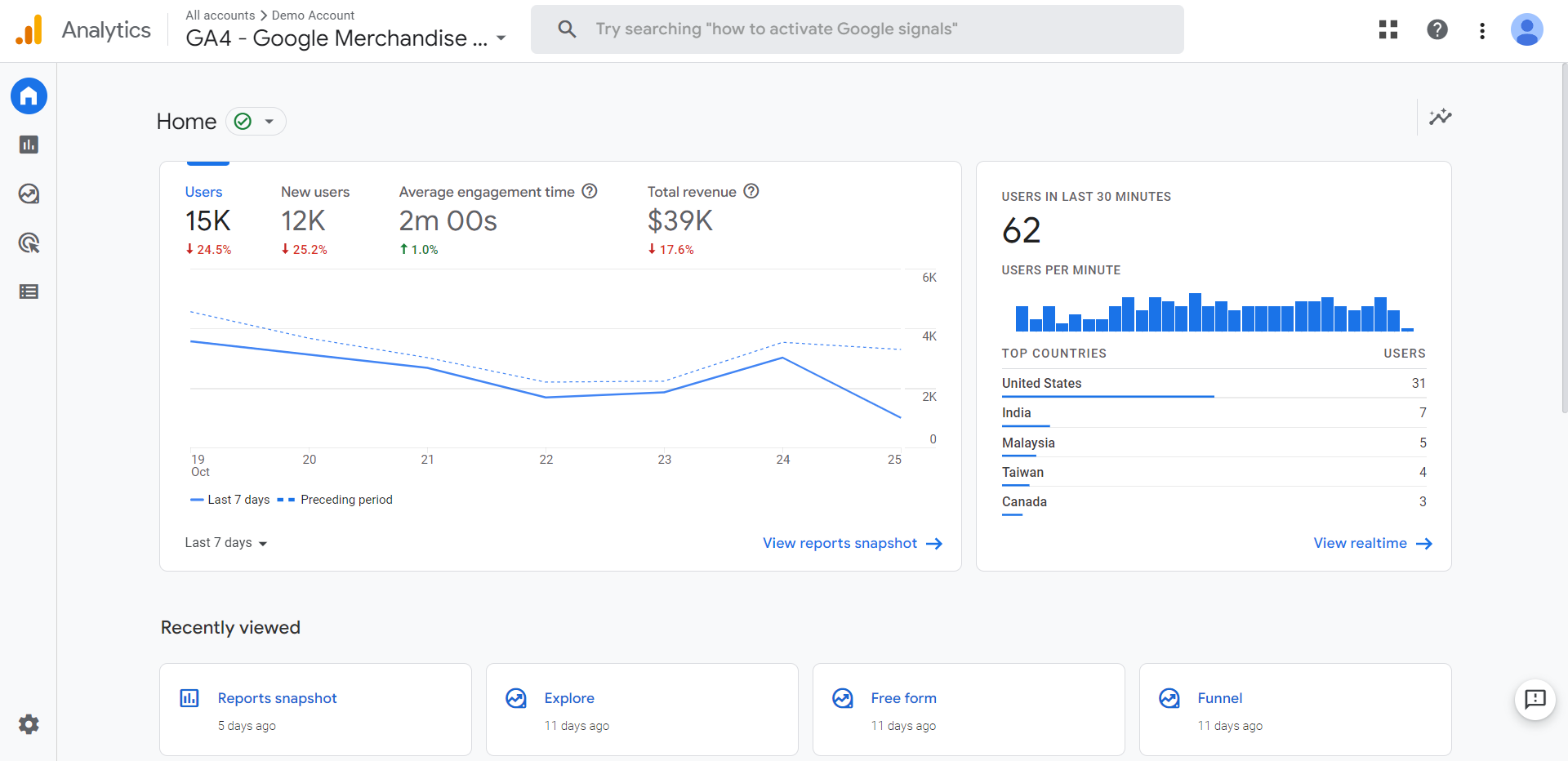 Getting started with Piwik PRO
When getting started with Piwik PRO, you will see a number of built-in reports that are pretty similar to the ones you'd see in Universal Analytics. You will find audience reports, traffic acquisition reports, behavior reports to analyze top pages, and conversion-focused reports.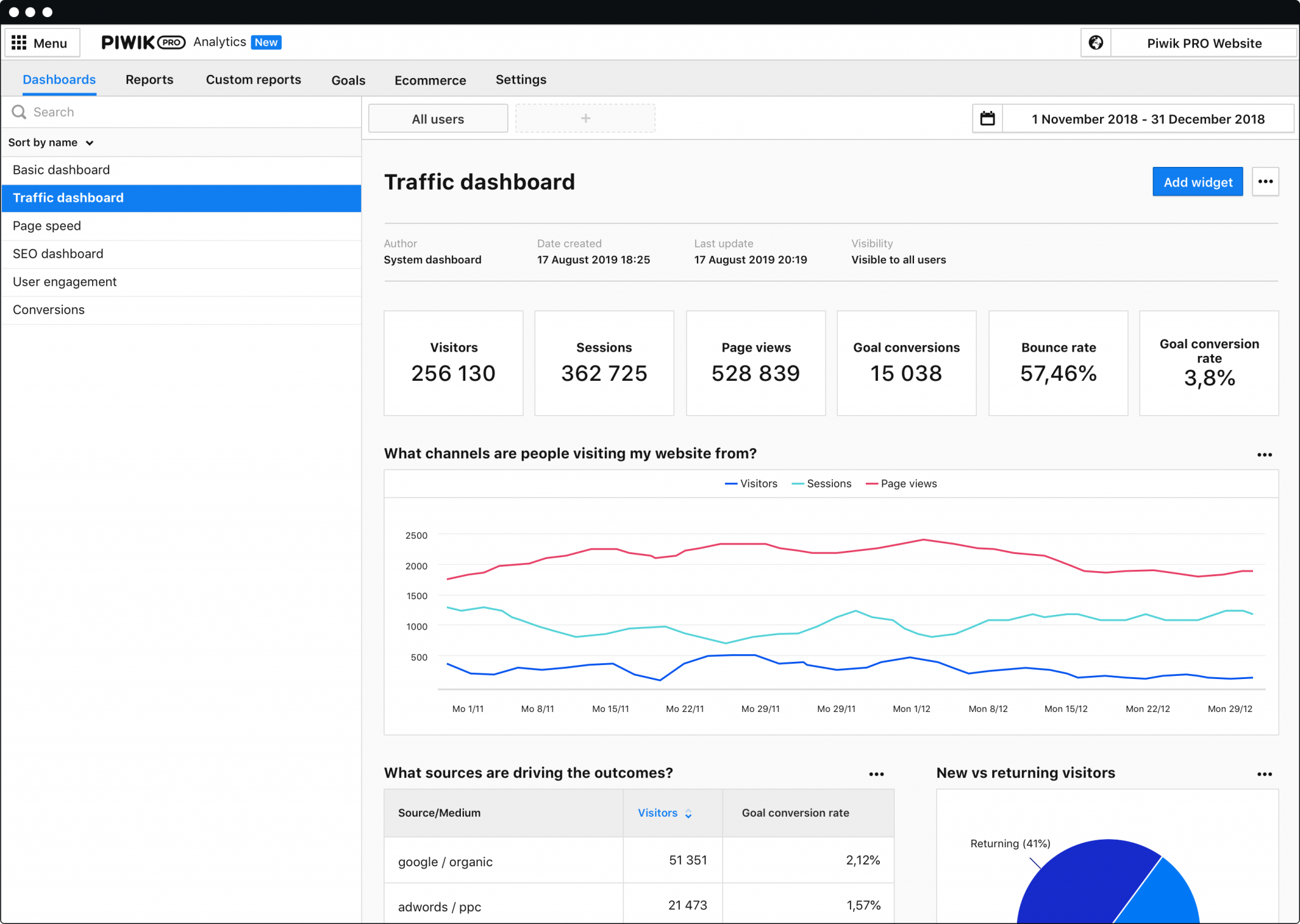 1. Acquisition reporting
The acquisition reports will point you to websites, campaigns, search engines, and social media that bring people to your website. Looking at these reports, you'll know if your advertising is getting through to people if you're communicating well on social media, and if your company can easily be found on Google.
In Piwik PRO, you will find several acquisition reports:
Channel report – a good observation point of all your traffic sources.
Search engine report – details search platforms used by people who reached your website.
Website & social report – shows all websites and social media sites via which people reached your website.
Campaign report – displays data about your online campaigns, including paid search Google Ads, Facebook ads, and newsletters.
Google Search Console report – combines data from Google searches with information about website visitors.
Google Ads report – tells you which Google Ads campaigns bring people to your site.
In Google Analytics 4, only three acquisition report sets are readily available. If you want more data on your acquisitions, you have to configure it yourself.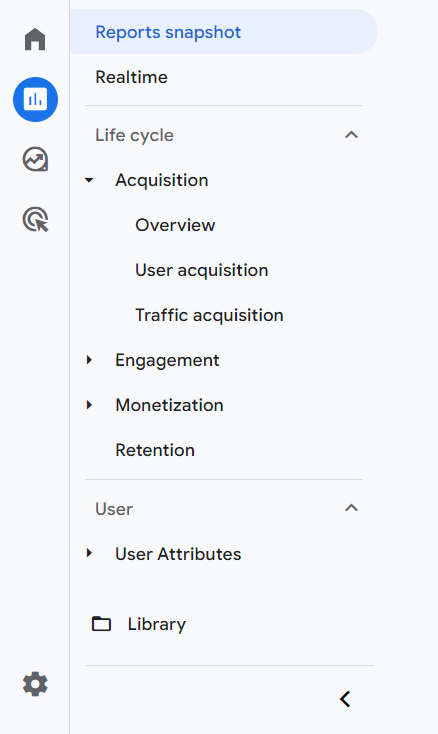 In Google Analytics 4, you can choose how to count conversions with a new counting method setting for conversion events. "Once per event" is recommended, but if you need it to match Universal Analytics, choose "Once per session."
2. Attribution reports
Using the Attribution report, you can analyze which channels people used to reach your website goal or purchase your product. This report shows various attribution models and conversion paths compared to basic acquisition reports. Using it lets you understand which touchpoints generate the most valuable traffic to your website and better allocate your marketing budget.
Piwik PRO has a multi-channel attribution report with different attribution models, including custom-created models. This is an essential feature for assessing conversions.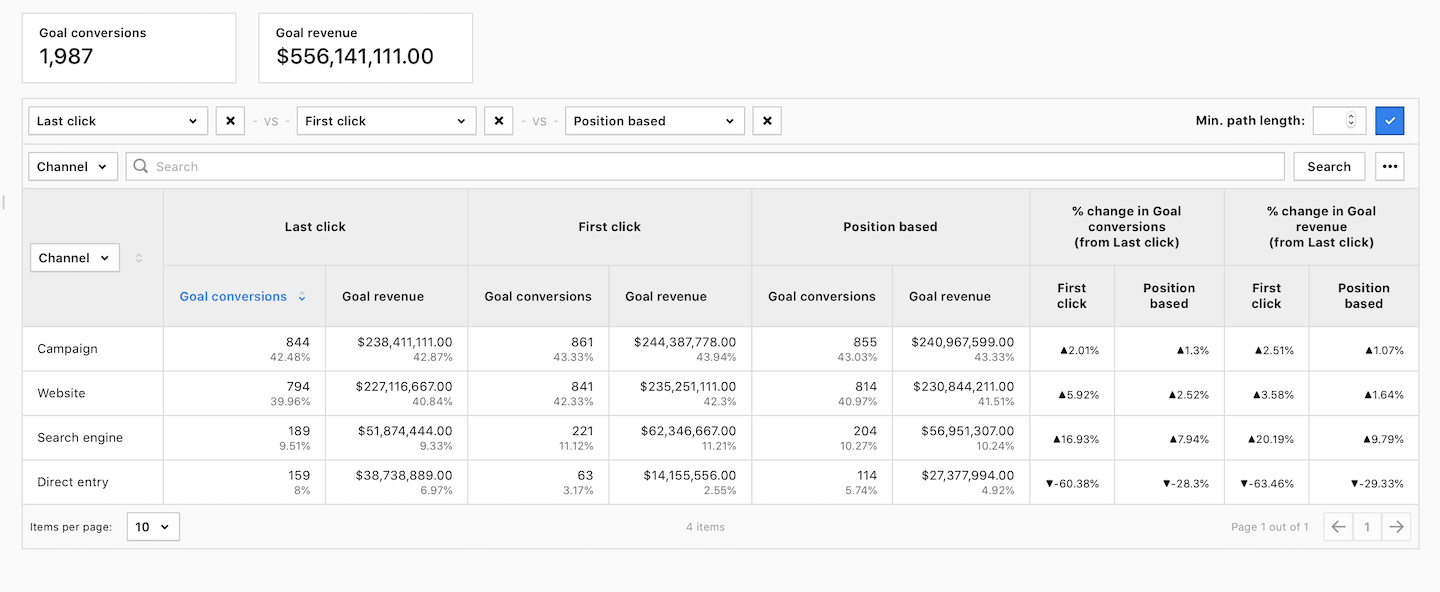 Attribution modeling in GA4 is data-driven by default. Data-driven attribution uses advanced machine learning to analyze data and decide how important each touchpoint is in a customer's journey. The new platform limited the number of available attribution models. You can use the last-click attribution model, but each conversion action must be manually changed.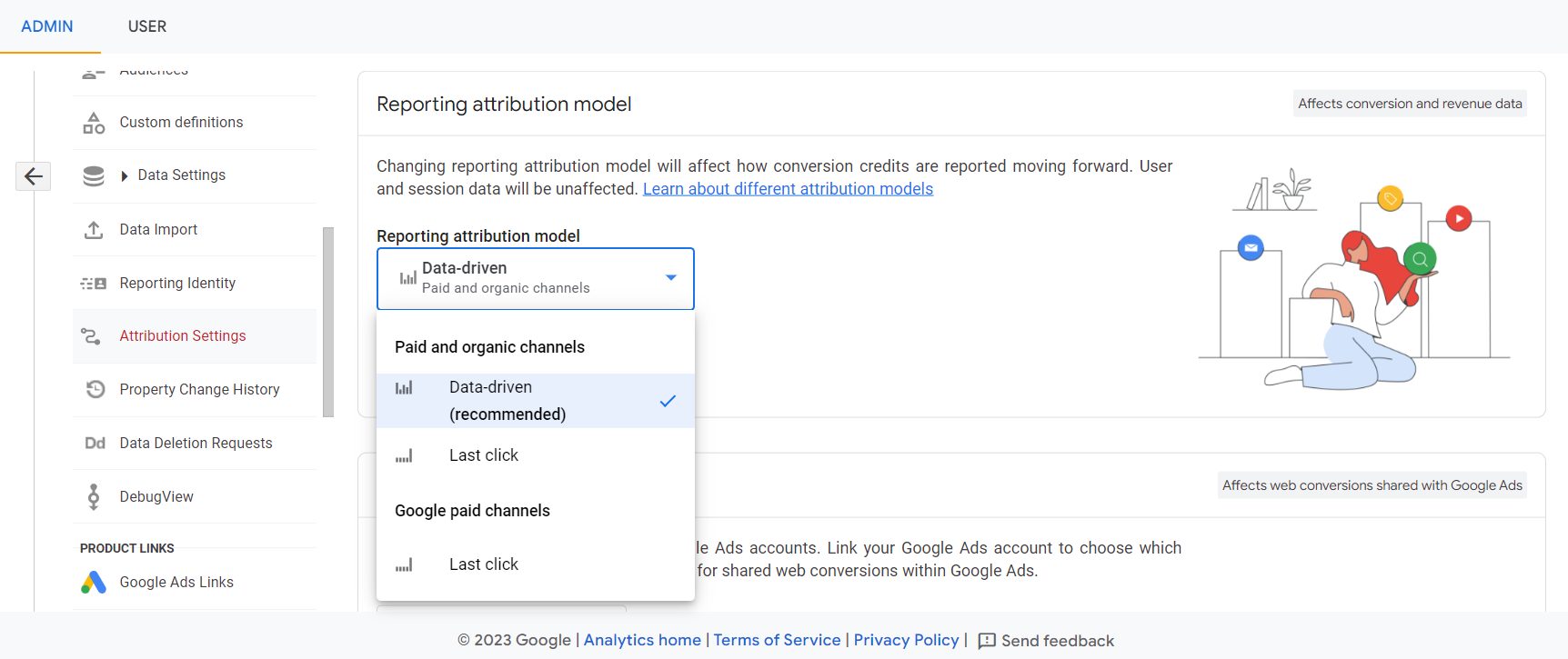 In the April 6 announcement, Google stated that four attribution models would disappear from Google Ads and Google Analytics:
First click
Linear
Time decay
Position-based
Starting in May, newly created properties will no longer support these models. Beginning in September, Google will sunset the models for all other properties. Cross-channel data-driven attribution, cross-channel last click, and Ads preferred last click will remain available.
3. Ecommerce reporting
Ecommerce reports provide information about your sales and how customers buy. Using ecommerce reporting tools, you can learn more about your customers, products, sales goals, marketing campaigns, and inventory management. This will enable you to make better business decisions.
GA4 includes enhanced ecommerce tracking, enabling you to measure and analyze e-commerce transactions, product performance, and revenue metrics. It provides reports on sales performance, product list performance, and more.
Unfortunately, it lacks some valuable metrics. For example, the cart-to-detail metric was recently removed from GA4. Cart-to-detail rate is a percentage of how many visitors come to your product page and how many buyers add products to their carts. It is a powerful indicator of how well your product page is doing. It also lacks more predefined ecommerce reports.
Piwik PRO also offers e-commerce tracking capabilities. It allows you to track product views, add-to-cart actions, completed purchases, and other relevant e-commerce metrics.
Piwik PRO'S ecommerce module was recently updated with support for product scope in reporting (also including custom reports).
Moreover, Piwik PRO supports reports and metrics you're probably familiar with, including cart-to-detail and order-to-detail rates removed from GA4. And ecommerce data is now available in the raw data exports like BigQuery.
Features such as product-scoped custom dimensions, product lists, detailed checkout reporting, multiple currencies, and more will be introduced soon.
UA migration tip
Piwik PRO operates on the same data layer as Google Analytics, making the transition of advanced ecommerce setups seamless.
4. Funnel reports
A funnel report helps you understand where people leave your website or app before completing a specific goal. To create a funnel report, you must define the steps (pages or events) a person typically passes through to reach the goal. Then, you can see how many people make it through each step and where they are most likely to drop off.
Piwik PRO allows you to create funnels from any page view or custom event, along with several more benefits of funnels:
Historical data tracked before the funnel was defined is retroactive.
Immediately available after creation.
A goal as the last step isn't required – it is flexible.
Filtering allows you to define each step in the funnel at a highly granular level.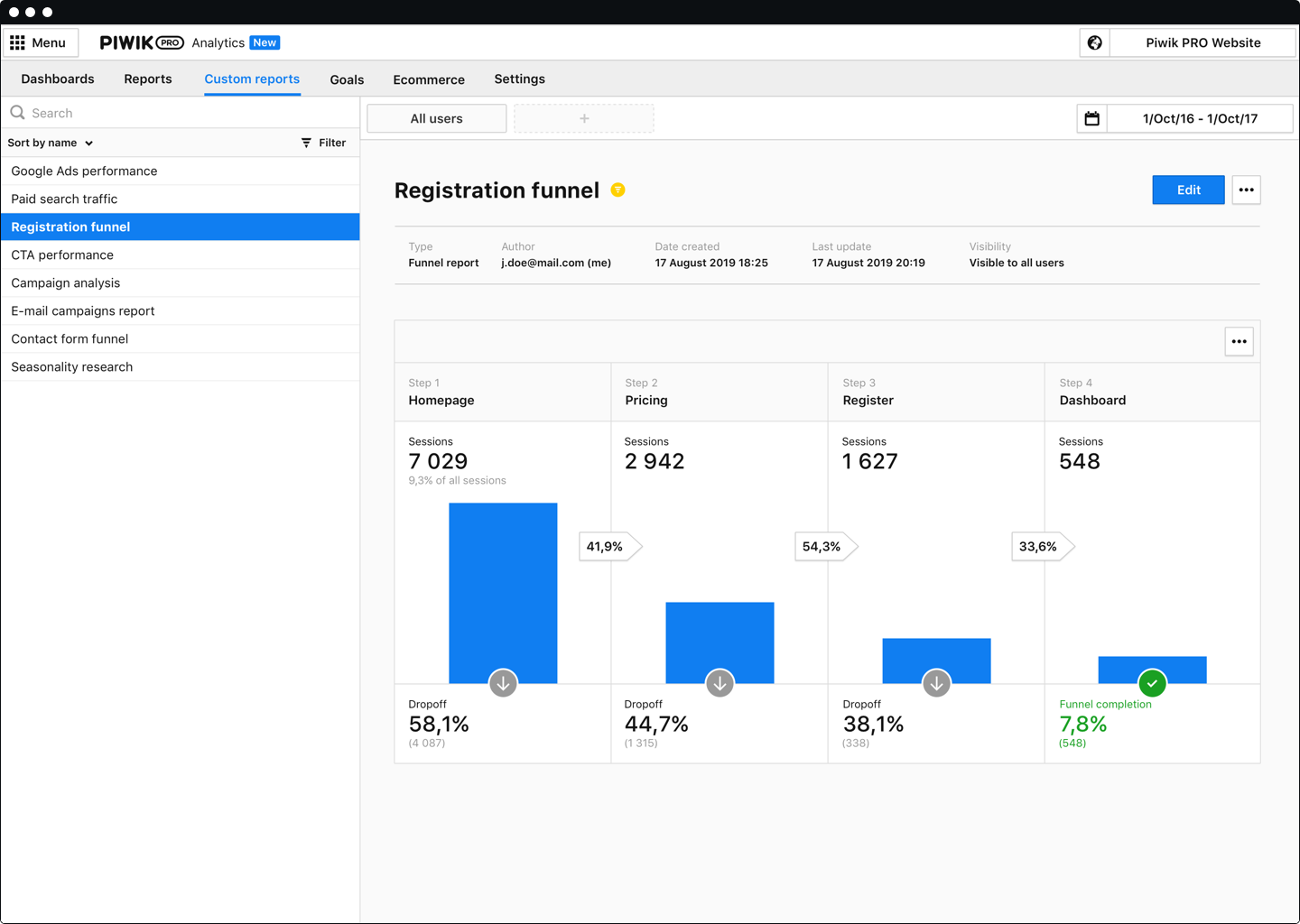 No matter when you configure your funnel, you'll always have access to the entire dataset of historical and recent user actions.
Google Analytics 4 users have access to funnel exploration features.
In GA4, funnel exploration visualizes already collected data. To compare, in Universal Analytics, you have goal funnels, which means you have to define a goal to start using funnels. The report will only show data collected from that point. If you have a goal, such as purchasing a product or signing up for a newsletter, you can create a funnel to track the steps leading up to it.
While in Universal Analytics, step customization is based only on Page dimension, GA4 is based broadly on events filtered by other dimensions. By adding dimensions, you can further customize your analysis by including attributes that describe something (e.g., an event, user, product, etc.).
Instead of platform- or device-based measurements, GA4 enables customer-centric measurements from multiple touchpoints. Customer-centric insights might give you a fuller picture of the buyer funnel, especially if your conversion funnel involves many steps that can be completed over separate visits.
However, GA4 relies on referral information accuracy, such as the lifetime of capped cookies. The capped lifespan of first-party cookies to 1-7 days means that conversions outside this window will not be attributed to the right source. Since GA4 heavily relies on first-party cookies, analyzing funnels in user scope comes with the risk that the data set might be incomplete.
The GA4 funnel report looks like the following example: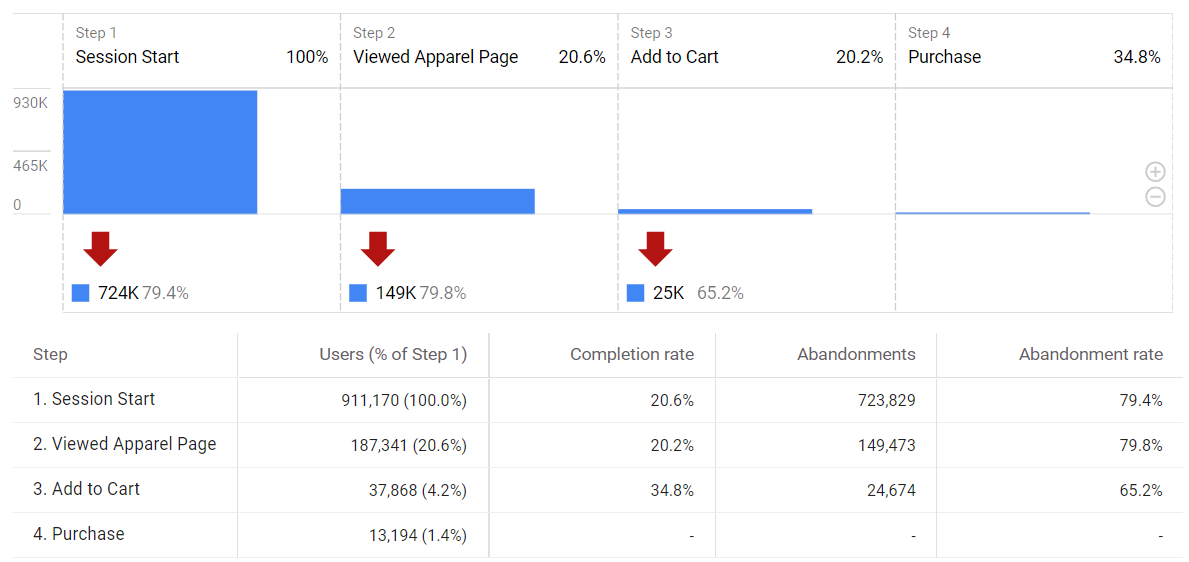 5. User flow reports
A behavior flow report gives you a visual representation of the path a user follows throughout your site. Analytics tracks the user from one page or event to another.
Piwik PRO's user flow reports offer the following options:
To set up user flow report interactions such as page view, download, search, custom event, and more.
To see a breakdown of session dimensions. For example, you can view channels, referrers, or campaigns.
Add up to ten interactions.
The user flow in Piwik PRO has three settings to analyze visitor paths:
Standard: shows you the following interactions after the vital interaction.
Transition: illustrates the interactions before and after the critical interaction.
Reverse: shows you the interactions preceding the key interaction.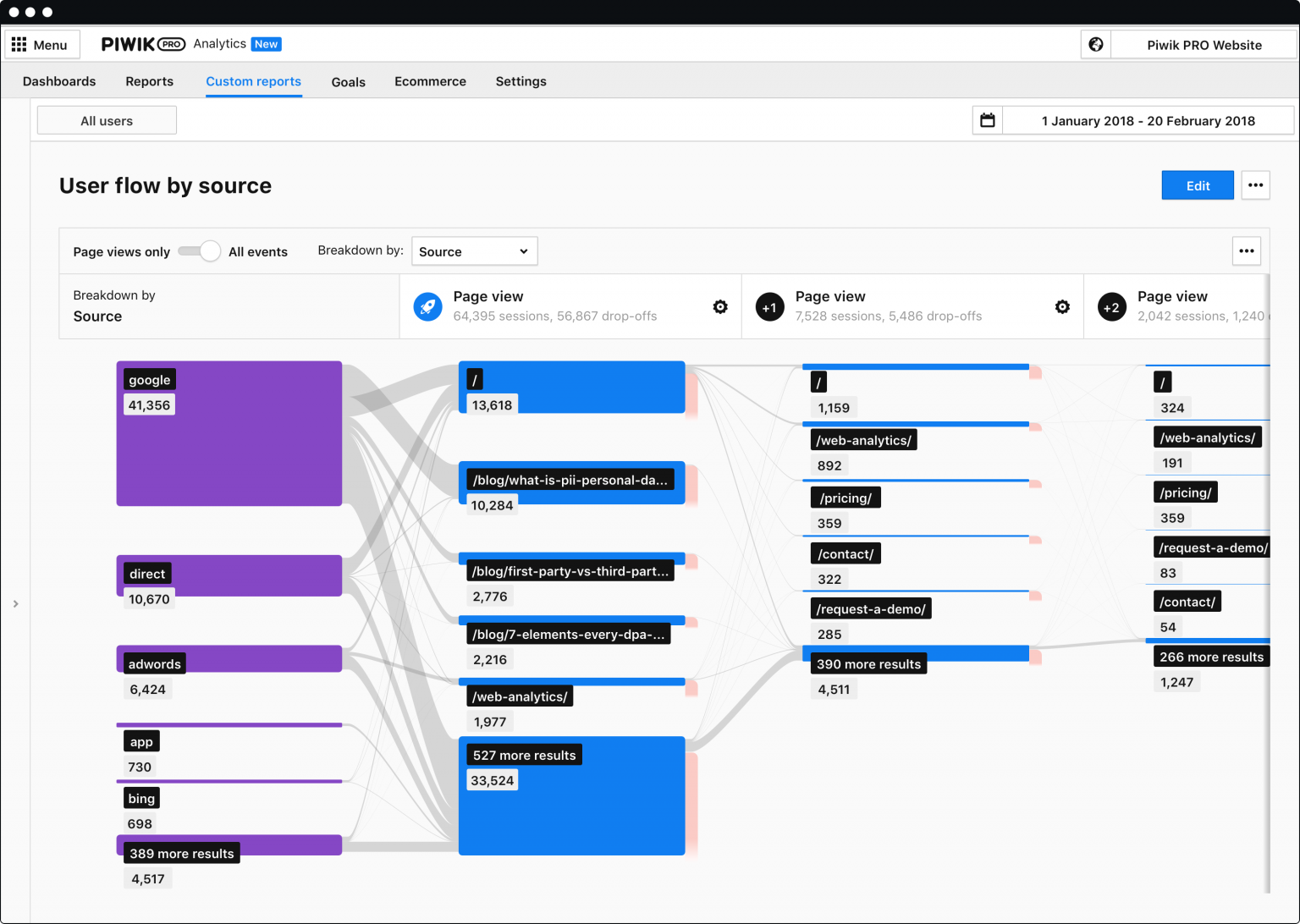 GA4 doesn't have a behavior flow report. To follow your user's journey, you can use your exploration templates. If you want to track a predetermined path, use your funnel exploration report. If you want to track a free-form path, use your path exploration report. The reports can provide you with detailed information without limiting your exploration options. However, they need to be customized.
6. Custom reports
Custom reports in Piwik PRO and GA4 offer similar functionalities, but they differ in implementation and flexibility.
Since GA4 has fewer standard reports, you must construct custom reports for many everyday use cases from scratch.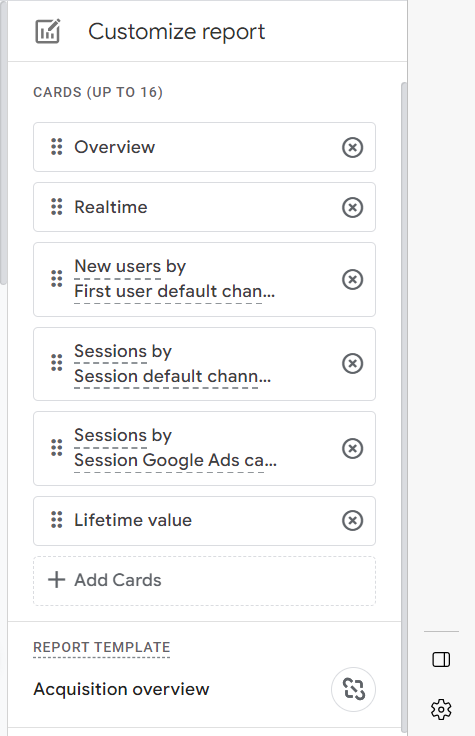 With Piwik PRO, you can customize metrics, dimensions, and reporting settings to align with your business goals and requirements. You can pick a standard report as the starting point, customize it, and save it as your new custom report.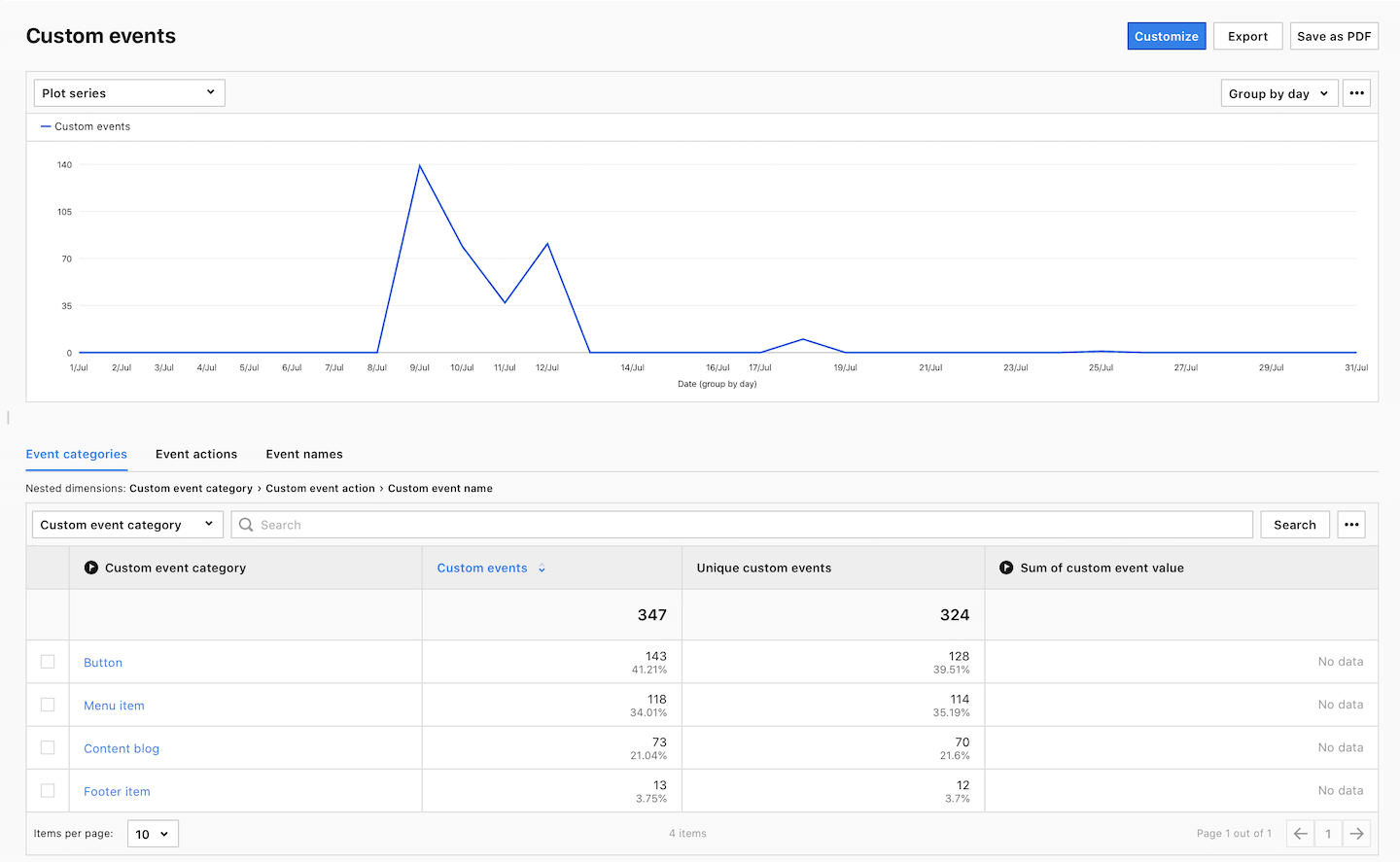 Custom channel grouping
Marketers can check the performance of marketing channels more efficiently by using channel groupings, which are rule-based groupings of marketing channels. You can connect all traffic sources to your website in one defined channel grouping.
For instance, connect similar referrer URLs into one group. Take Facebook traffic and the different subdomains it uses. Rather than having multiple rows on your source/medium report (each for Facebook traffic), you can have one: Facebook organic.
Piwik PRO lets you create unlimited groups, with 10 channels per group, but this limit can be increased for enterprise clients.
Custom channel grouping is available in Google Analytics 4, but there are limits. You can create 2 groups and 25 channels within each group.
Limited options for customizing dashboards
You should know that GA4 is stripped of custom dashboards and widgets that allow you to display your data in different presentation styles. These include simple numeric metrics, tables, and charts. You only have a few options to customize dashboards and widgets, so displaying data in a presentation style that suits your needs will be difficult. You can only add predefined components that can't be modified. Moreover, GA4 doesn't offer a drag-and-drop editor.
Here is a quick recap of the GA4* and Piwik PRO reporting capabilities and integrations:
| | Google Analytics 4 | Piwik PRO |
| --- | --- | --- |
| Standard reporting | | rich set of standard reports |
| Regular expressions in filters, segments & groupings | | |
| Live traffic/live map | | |
| Consent reports | | |
| Ability to process personal data and PII (including sensitive data) | only encrypted PII allowed (min. SHA256) | non-encrypted and encrypted PII allowed |
| Views feature | | |
| Custom reports | | |
| Cross-property roll-up reporting (metasites) | | |
| Funnel reporting | advanced | advanced |
| User flow reporting | | |
| User-level reporting | | |
| Site speed reports | | |
| Custom channel grouping | | |
| Ecommerce reporting | limited | |
| Detailed real-time reporting | | |
| BigQuery | | |
| Google Search Console | | |
| Google Ads | | |
| Looker Studio | | |
| Audience activation | (limited to Google ecosystem) | (native integration with Piwik PRO Customer Data Platform) |
| Widgets | limited | |
| Custom dashboards | limited | |
| Predefined attribution models | only data-driven and last-click | |
| Custom attribution model | | |
*GA4 free version
Which is best for my business?
Both Google Analytics 4 and Piwik PRO have their strengths.
Piwik PRO gives more control over data collection and processing. Because Piwik PRO meets the needs of both analysts and marketers, it is more universal.
If we consider GA4, it's harder to use GA4 for less experienced users who are used to default reports, easy-to-use custom reports, and dashboards. It might be a good fit for larger organizations. You need time and resources to rethink, redesign, and rebuild your data pipeline. Tailoring it to your needs requires a much more significant investment in data strategy and configuration.
Evaluating your specific needs and priorities is essential when choosing between GA4 and Piwik PRO. Consider factors such as data privacy, customization requirements, integration needs, costs, and the level of control you want over your analytics data.
See product comparisons that will help you choose the right web analytics software. We present the essential features, explaining in detail their significance from the legal, technical, and practical perspectives: