As much as 72% of business buyers expect vendors to personalize their experiences. However, only 15% of CMOs believe their company is on the right track with personalization. These numbers speak for themselves – companies need to shift their focus and incorporate high-level personalization into their marketing.
If you want to reach your target audience without wasting resources on the wrong crowd, your best shot is to use the user data your company already has. You will need to scan through the data to gain insights about visitors and customers, define relevant user segments, and address their needs with applicable campaigns.
Technological advances can make customer targeting easier, and the name of the game is the customer data platform (CDP). This is a tool that lets you integrate data from numerous sources to build highly customizable audiences that different departments at your company can apply to their work.
Whether it's improving the quality and capabilities of your product, adapting marketing and sales communications to your customers' preferences, or adjusting interactions with support, a CDP will help you create a better customer experience.
Read on to learn about choosing audience segments for targeting, what you can do to get users to convert, and how a CDP can help you do it efficiently.
What is audience targeting
Audience targeting means dividing consumers into segments based on specific criteria, such as interests, behavior or demographics, and targeting them with relevant content through their preferred channel.
Effective audience targeting engages visitors and customers to draw them toward your brand, help them move down the marketing funnel, and get them to convert. You can adjust your messaging and lower the odds of wasting resources and budget on people who aren't likely to be interested in your offer.
Consider your Facebook and Google Analytics campaigns. Both platforms provide audience targeting, but that comes with a price. Your options are limited, and you have to work on separate data sets. Building intricate audiences isn't possible if you only use Facebook, Google Analytics, or another similar tool that serves just one purpose.
So, what tool do you need to conduct successful audience targeting?
CDP – the game changer in targeting audiences
A customer data platform (CDP) is a flexible and interconnected piece of software that can be easily linked with every element of your marketing stack.
One of the key advantages is that a CDP facilitates the integration of data from a range of first-party sources, working across channels and devices.
This is critical because each department handles its data sets differently. Marketing keeps data in web analytics and ad platforms, whereas sales and customer success teams store their data in a CRM and live chat, and so on. All these systems contain siloed data on purchase history, transactional details, web and in-app actions, user personas, customer interests, and more.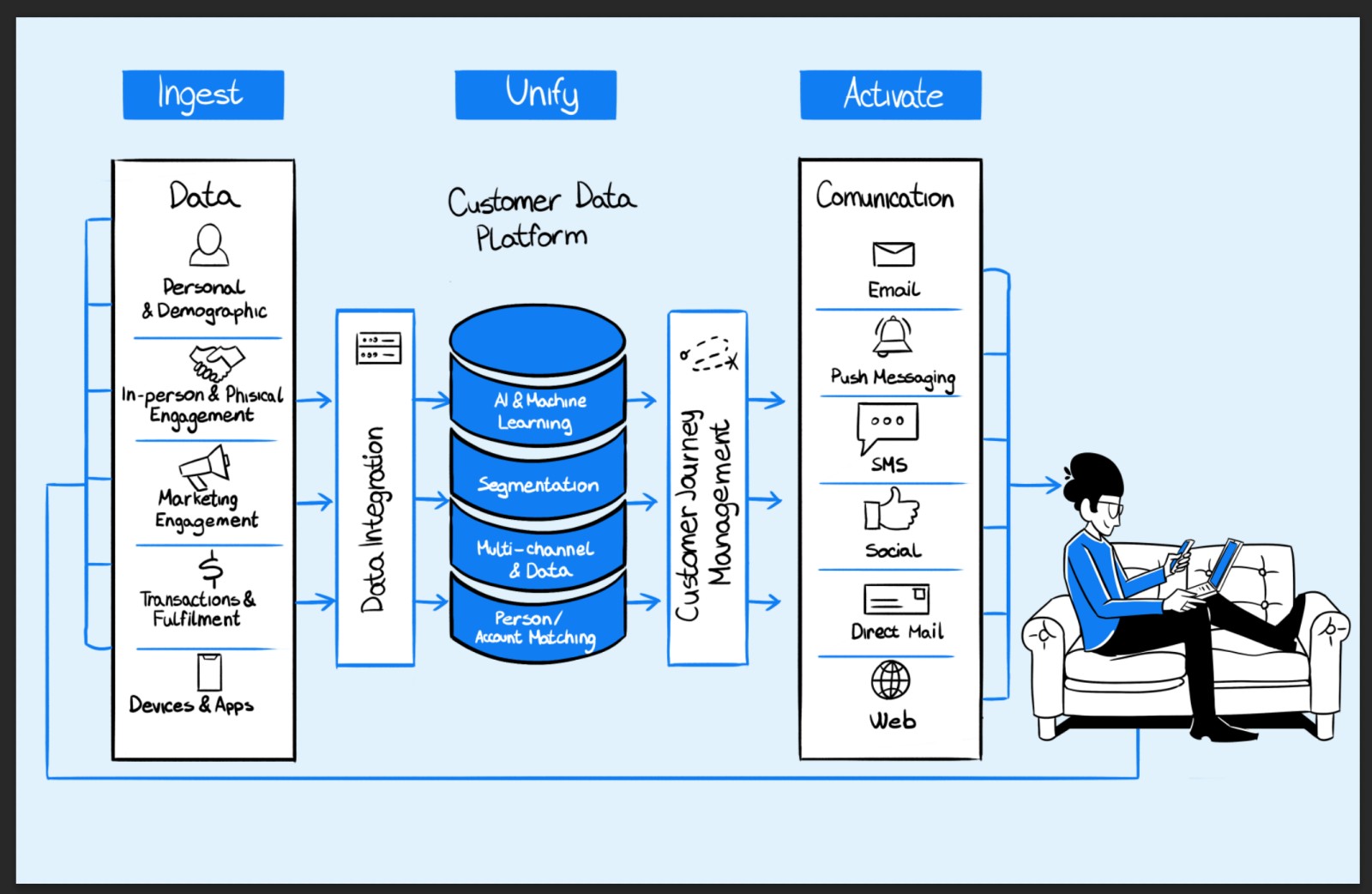 A customer data platform lets you combine data from sources like:
Ad platforms

Ad networks

DSPs

Analytics platforms

CRM

Analytics

Ecommerce systems

Offline sources

Lead capture forms

Data warehouses
A CDP allows you to build persistent, highly complex single customer views, serving as principal sources of information for effective personalization and informed decision-making. Each 360-degree customer profile in a CDP contains various attributes representing each customer's details.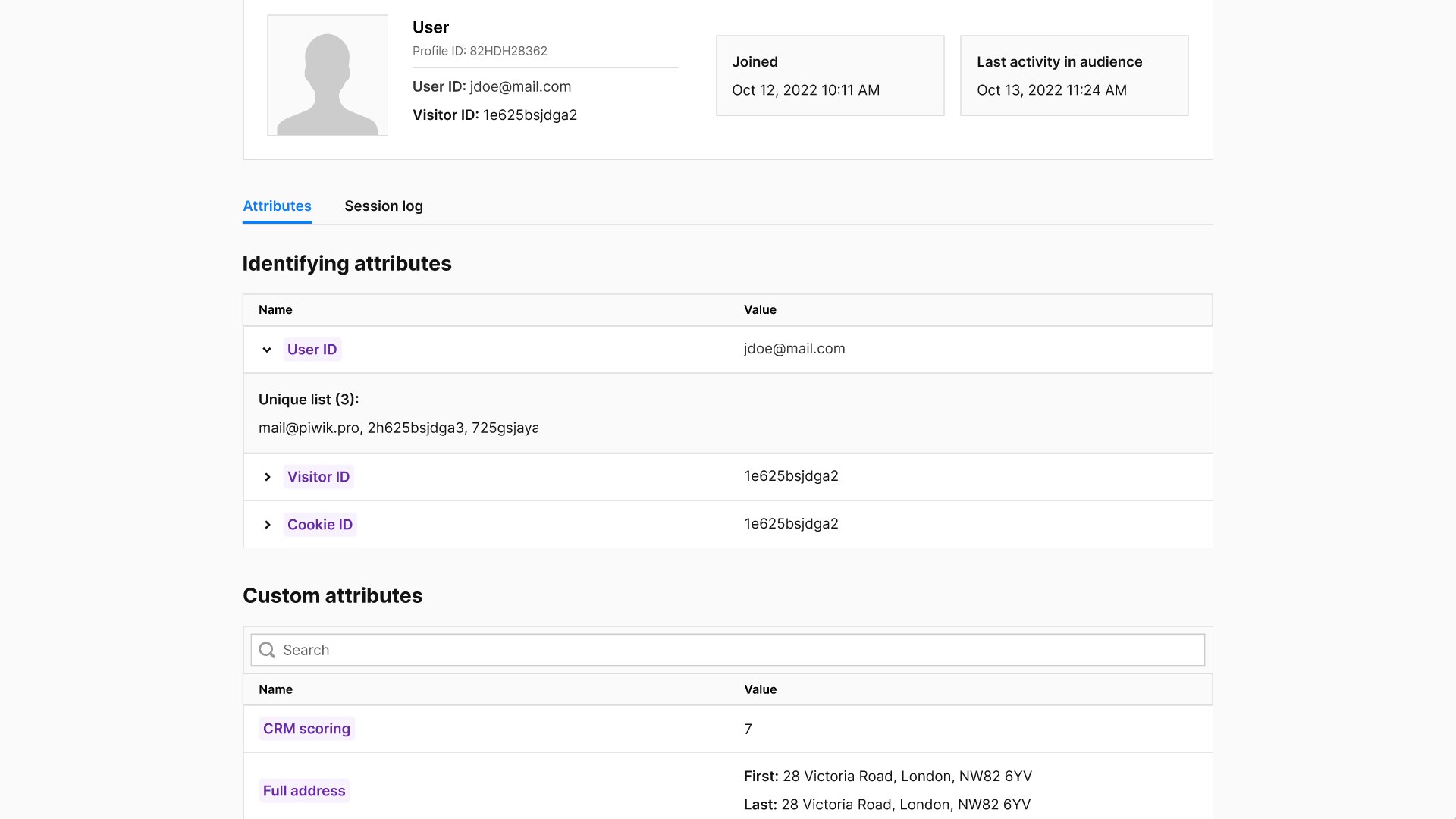 You can also develop custom audiences created by matching and filtering customer profiles based on selected attributes and adding them to specific audience segments.
Another defining feature of CDPs is that they are created to let marketers work in real-time. It's one of the strongest aspects of these platforms, as every action your customers take is reflected in updated and enriched profiles. Furthermore, it lets you act on new information straight from the platform.
Last but not least, a CDP is predominantly fueled by first-party data. For marketers and advertisers, this is the most valuable type of data. It comes directly from your customers and visitors, meaning you can expect it to offer the highest levels of precision and reliability. At the same time, first-party data translates into legal compliance, keeping you aligned with GDPR and the ePrivacy directive. You acquire this data transparently after receiving appropriate consent from visitors, plus you are in charge of deciding how the data is used, managed, and stored.
You can take advantage of these benefits in Piwik PRO's CDP. It allows you to combine data from numerous sources into a single customer view and construct comprehensive audience segments.
However, the platform's main asset is that it enables data activation. This means that you will be able to send all the accumulated data to other tools. You then act on your insights to provide a personalized customer experience and optimize your campaigns.
Read on about data activation and how it fits into your data analytics stack.
How to use a CDP for effective audience targeting
There are two fundamental stages you should focus on to successfully target your audience:
1. Building complex audience segments
As you conduct marketing and advertising campaigns, you collect invaluable user data. Use a CDP to connect data from various tools to get a complete picture of your users.
After gathering customer data, you should analyze it to recognize trends and patterns in customers' traits and behavior. Using this information, you will be able to segment your audience. This involves selecting relevant attributes and filtering the data to identify a target audience that matches them.
You have a lot of flexibility in segmenting your audience – for example, you can create a group of:
People who have abandoned their shopping carts
Users who live in a specific country or region or communicate in a particular language
People who live in cities, small towns or rural areas
Visitors who have or haven't given consent or gave consent only for specific processing purposes
People who have completed specific goals – downloaded a whitepaper or ebook, visited a contact or demo page, or submitted a form
Your segments can be much more complex too. They can combine countless user characteristics and behaviors, allowing you to slice the segments razor-thin. This will significantly boost the promotional reach of your ads and offers.
For example, if you work at a telecom company, you can segment users that match all the following criteria:
Has been a customer for 3 years
Is a business client
Bought at least one additional phone number within this year
Contracted for a minimum subscription of $35/month
Uses an iPhone
Twice refused to extend the subscription via call center, only 2 months left before termination
How do you decide what segments you should build? Start by answering the following questions:
Who are the potential customers I'm trying to reach?
What needs do they have that my product or service can address?
What traits or behaviors do my current customers tend to have in common?
What are my customers' buying habits?
What channels should I use to reach them?
What type of content do they engage with the most?
Always build segments focused around your business goals.
Pay attention to the segments most likely to prove profitable for your organization. The most receptive segments should lead to a higher ROI and generate higher customer lifetime value (CLV) in the long run.
2. Activating the data
Once you've decided on the segments, you can activate your audience data by sending it to other tools and acting on the insights you gain from analyzing it.
Examples of data activation include:
Delivering ads that resonate with visitors.
Running an A/B test to see which version of a message, page, or ad converts better.
Showing personalized content to users, such as a home page or landing page, to improve customer experience and display the right message to the right user.
Sending a targeted email based on the users' interests or demographic characteristics.
Integrating web or app data about user activity (visited pages, last activity, goals achieved) with a CRM to uncover and prevent a potential churn.
The way to draw people into the orbit of your products or services is to leverage the typical characteristics of users who purchase from you. This is possible because a CDP helps you make your audiences as granular as possible and implement a "segment of one." In other words, you treat an individual user as your audience and provide one-to-one personalization.
This type of personalization allows you to wield more influence when targeting your audience with a compelling message, both in the B2B and B2C sectors. You can make the members of your audience feel like you understand and value their needs and are able to satisfy their expectations.
Challenges in audience targeting to watch out for
Even if you follow advice from the previous chapters, you still need to watch out for several challenges. Any mistakes in the following aspects can hinder the execution of your audience targeting strategy:
Targeting the right size and type of audience
You might struggle to meet your KPIs if you target too broad of an audience. You can tell your reach is too vague if you focus on very few generic traits.
For example, you may create segments of people between 18 and 49, those who use Windows, or users who viewed at least one page on your website. And even if you combine all three of those traits in one segment, the created audience won't reflect the intricacies of your users as individuals.
You may hit the goal of reaching many people, but that would work better for other marketing initiatives, such as a branding campaign. To effectively approach people who will convert and buy your product, you should create and target a more granular segment of users.
Showing the right amount of personalized content
Another challenge is ensuring you don't oversaturate an audience by showing too many ads or sending too many emails or recommendations. This creates a frustrating experience for the customer and can also be a waste of money and effort for you.
Always keep a close eye on the results of your campaigns. You can then decide if your audience members are responding as you expected, or if you should tweak your efforts by adding or removing some content.
Targeting each stage of the user journey
Remember that each stage of the user journey is essential and requires attention. Specifically, don't neglect the stages after a user purchases your product.
You need to plan the communications and campaigns you will show users after they buy from you.Here again, a CDP comes in handy – it will help you access data across different touchpoints, whether before, during, or after the purchase.
Providing data privacy
In today's privacy-focused world, it may seem challenging to balance collecting as much valuable user data as possible in a way that won't violate their rights as set out by privacy laws around the world.
Customer data platforms can help you achieve better privacy compliance in several ways.
They let you collect first-party data from users and combine it into single customer views. You can see what data you have gathered about each individual, including consent details, and use the SCVs as a single source of truth across the company.
You can store consent records, keep track of user requests and respond to them promptly. If you integrate the CDP with a consent manager, you can facilitate these processes, including informing users about ways their data will be processed.
A CDP centralizes access to a customer's personal data and shares it with other systems without having them access each other's data directly. You can track and manage privacy controls and permissions and control the accuracy and granularity of collected data.
Applications of a CDP for powerful audience targeting
Let's now analyze a few specific ways you can apply a CDP to your audience targeting.
CDP use case #1: Reactivating cold signups
People don't use your product the way you want for various reasons. You can employ a CDP to uncover users who have signed up for your service or a free trial but haven't used it. You might select and target such users with personalized follow-up emails and ads.
To start with, define the users, messages, and target channels. For the group of users, look at people who signed up for your service but haven't logged into their account in 7 days. To get all this information, unify user-wise product usage stats, lifecycle stage, and behavior information in a CDP.
Now segment them and send the information to email tools and ad platforms like Facebook or Google Ads. Then, use them to promote messages with use cases and success stories for your product.
CDP use case #2: Seamlessly upselling or cross-selling new features to existing customers
If you get repeat visits to your website from an existing customer, you could personalize website content or live chat messages to showcase new product updates and features. You may want to direct them to support documents or inform them about new features that will be useful to them.
Once customer data is enriched, instead of multiple API calls to numerous tools, a CDP can deliver account and user-level information (lifecycle stage, account score, support requests, subscription details, email engagement) to one place within seconds. You can use it in your personalization tools, such as Optimizely, to populate live chat or web pages.
CDP use case #3: Personalizing cross-channel communication at any stage of the customer journey
Ensure you send personalized content to users before making a purchase and follow up with them afterward. This can increase their engagement with your company, leading to higher customer lifetime value.
Let's say you work for a car dealership where customer data is merged from four different sources: purchase, aftermarket sales, service department, and the customer's personal data.
If a customer has purchased a vehicle from you, you could keep the communication going:
Three weeks after the purchase, the dealership sends a text message to the customer asking if they have settled into their new vehicle and offering assistance if needed.
Three months after the purchase, the aftermarket sales department follows up with optional equipment that can be retrofitted to the car model the customer purchased.
One year after the purchase, the service department contacts people who have purchased a vehicle a year prior and haven't scheduled a service yet to invite them for the vehicle's annual tune-up.
Through targeted communication, the company ensures they retain the customer's attention. The knowledge of the customer and their potential needs enhances their trust in your company and opens up additional opportunities for communication.
CDP use case #4: Improving ad spend by polishing your audiences
A CDP can help you better manage your digital advertising. For example, you are able to:
Manage suppression lists
Data merged in a unified profile allows you to focus more on who you don't advertise to, so you aren't spending money with display or social campaigns that won't drive clicks.
You can remove people from your ad activations who currently aren't in the market for your product or shouldn't receive your ads.
A CDP allows you to do it even for complex scenarios. For example, you could remove a contact from being shown ads targeting your top-of-the-funnel audience after they've opted in. You may also change the communication channel after a prospect fills out the online quote form on your website.
Focus your lookalike audiences
After you take steps not to display ads to the wrong groups of people, you can plan how to improve targeting for those you want to advertise to.
Using the first-party data collected from your CRM and enriching it with demographic and psychographic data, you already have a crucial amount of data to find similarities or differences within your audiences.
If you add all this data to a CDP, you can analyze it and narrow your audiences to multiple micro-audiences using the platform's machine-learning capabilities.
You can build micro-audiences for:
Product categories
Customer spending (based on average order value, total spend, etc.)
Geographic differences
Use cases or solutions
High-profit customers
Starting with these smaller audiences allows you to offer more targeted advertising to a more relevant audience, thus increasing your return on ad spend.
CDP use case #5: Tailoring offers to the needs of B2B clients
You can effectively personalize your offer by connecting different data points and recognizing the user account they are associated with. The data you possess can tell whether the visitor is a new or returning user, what kind of company or industry they work in, and their position at the company.
For example, you can adjust the lead generation form you show after identifying the user as a new visitor. Highlight the benefits of your solution and explain how it can address the users' pain points, or encourage them to schedule a free product demo to see the product in action.
You can target an existing customer with a cross-sell or upsell campaign, depicting the features and benefits of your other products. Alternatively, you can create a referral campaign, offering incentives for recommending your solution to others.
Audience targeting with a CDP: Final thoughts
Audience targeting is an intricate process requiring you to get thorough, in-depth knowledge of your customers to implement it successfully. Luckily, you can ease the burden by implementing solutions such as analytics and a customer data platform and integrating them into your MarTech stack.
If you're looking for a complex yet easy-to-use platform comprising Analytics, Consent Manager, Tag Manager, and, soon, Customer Data Platform, learn more about how Piwik PRO Analytics Suite can fulfill your needs.
Reach out to our Piwik PRO team with any questions about our products, and we'll give you all the answers: